Once again, the Navrongo Town Awards dubbed N-Town Awards held an impressive event on the 30th of December 2019; with a barrage of awards going to honor many sons and daughters of the land for contributing immensely to the development of Kasena Nankana Area. At the event Gospel singer & Senior Lecturer at the University of Ghana Wegeiwor received an award for her contribution to rural development through the Exglo Foundation.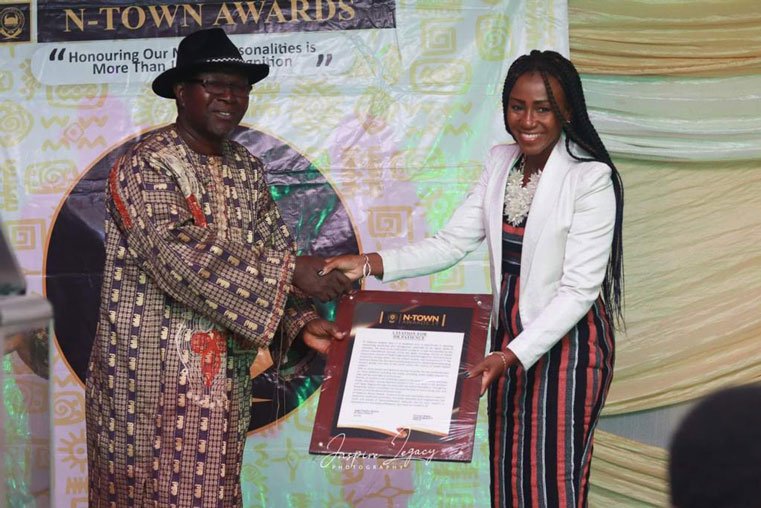 Wegeiwor has resolved to impact rural development positively, especially in the area od women and children. She believes her current stature, juxtaposed with the humbling upbringing she had growing up in in the Upper East & Northern Region, makes it incumbent on her part to ensure people live a dignified life. She has therefore embarked on numerous projects which actually transcends the Kasena Nankana area.
This is a classic instance where I can confidently say There goes the adage; "a prophet is not regarded in his/her home".
Wegeiwor is a Gospel musician and a senior lecturer at the University of Ghana Business School. Known in private life as Patience Aseweh Abor, she's a staunch Christian and a mother of three. To be able to juggle all these roles seamlessly makes her another awesome example for society; worthy of emulation.
I have often said that, the savanna regions hold a unique opportunity to change the narrative when it comes to development in several ways. From presenting a unique kind of music, to upholding social constructs that bother on sincerity, truth, and a deliberate attempt to ensure the positives of society remain visible; the savanna continues to stand tall. Kudos N-Town Awards for recognizing your own.
The Award was presented on behalf of the Chiefs and People of the Kasena Nankana.
Below is a full list of people honored at the event.
1. Entrepreneur of the year (Male) – Julius Awareja ( OGIIS GHANA)
2. Entrepreneur (Female) – Hajia Samirat Bin Ahmed (Robber Melcom)
3. Young Entrepreneur Of The Year – Abi Christian
4.Regional media personality – Alfred Kutajera
5. Regional Best Fashion Designer – Castro Ayine Afable
6. Best health worker – Cynthia Abuse
7. Best Health institution – Wisdom Star Health Center
8.Media Personality – Edmond kwaching
9. Best Cultural group – Royal show boys
10. Event of the year – Miss Navrongo
11. Sports personality of the year – Sharkla
12.Young promising farmer – Elijah Bobbi Lugugia
13. Entertainer of the year – Sylencer
14. Artisan of the year – Emmanuel Innovations
15 Best food joint/Restaurant – Perseverance
16. Best Event in the region (Upper East) – HAMISOC
17. Entertainment group of the year – FEHNA Entertainment
18. Group/Clique of the year – AMG
19. Assembly Member of the year – Hillary Aniakwo
20. Best Teacher Award – Christopher Adogewuro
21. Dr. Anonkware Best BECE Student – Wobi Emily Wepia
22. Dr. Anonkware Best WASSCE Student – Didera Frederick Biasam
23. JOGOBU in the Diaspora – Dr. Abor Aseweh Patience
24. Dr. Anemana Sylvester
HONORARY AWARD
Imam Abass Yikinsah(MALAM)
Nikyema Billa Alamzy
Chief Inspector Kwame Danso
HUMANITARIAN PROJECT
Rev. Fr Paul Kapochina