Tamale will be brightly lit with torches of varied sizes mainly from straws and grass tied to a piece of wood or metal. Gunfire and extreme stunts will be at play, as the magical prowess enshrined in the traditional believes surrounding the festival will once again manifest.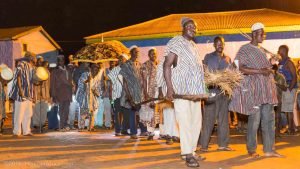 Participants rub fire allover themselves without sustaining any wounds; people cut themselves with sharp objects that under normal circumstances will inflict deep wounds, some even go as far as proving invincibility in the face of gunfire…
All in all, the traditions that exude magic comes to live this Saturday in Tamale.
Oral history links the festival to the shaming of an "Evil Tree", which is believed to have kidnapped the son of Tindaana Suhizee known as Suhipieli ; as a result of the kidnap, the community led by the said Tindaana and his wife to search the entire township till they found the boy asleep under the "evil tree"; the torches which served as light for the search was then thrown spitefully at the tree.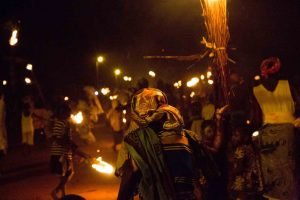 The dimensions introduced into the modern celebration makes one want to know more about the origins and reasons behind the festival.
Let's hope we can one day research and bring out a much more comprehensive story behind the celebrations.
Meanwhile let's meet this Saturday in Tamale for some traditional fun.
It's Bugum Festival.