Hurray, Ghana Music Awards UK 2017 nomination list is here.
The final list for the 33 categories for the 2nd Annual Ghana Music Awards UK have been released. Over 100s of Ghanaian musicians, labels and management teams submitted their works over the past few months in order to determine this year's final list of nominees.
"It is an incredible achievement to be selected among the best from the 1,265 entries we received this year. Congratulations to all the nominees," said Alordia, CEO of Alordia Promotions.
Before winners are announced, the voting platforms and procedures will be made available to the public on Saturday 15th July 2017 in the media and social media platforms.
The awards are based on the reporting period of April 2016 through April 2017.
The 2nd annual Ghana Music Awards UK plaques will be presented to the winners on Saturday, 16th September, 2017 at the Gaumont Palace (Dominion Center), 9 The Broadway, High Road, Wood Green, London N22 6DS.
Ghana Music Awards UK shines a spotlight on the best Ghanaians musicians who excel in Ghana and the UK.
Without any further ado, here are the very deserving nominees for the 2nd Ghana Music Awards UK 2017 – congratulations to all!
1. AFRICAN ARTISTE OF THE YEAR.
Runtown
Tekno
Wizkid
Mr. Eazi
Eddy Kenzo
2. GOSPEL SONG OF THE YEAR.
Yewo Nyame A Yewo Adze – Nacee ft. Ernest Opoku Jr
Change Over – Mary Agyemang
Mewo Jesus – Mabel Okyere
My Soul says Yes – Sonnie Badu
Healing Stream – Jeshrun Okyere ft. Nathaniel Bassey
Agye Wo Nsem – Piesie Esther
3. GOSPEL ARTISTE OF THE YEAR
Joe Mettle
Mabel Okyere
Piesie Esther
Nacee
Sonnie Badu
Jeshrun Okyere
4. NEW ARTISTE OF THE YEAR
King Promise
Medikal
Adina
Ebony
Dem Tinz
5. BEST MUSIC VIDEO OF THE YEAR
Yewo Nyame A Yewo Adze – Nacee ft. Ernest Opoku Jr
Booze N Boobs – Guru ft. Roll
Pain Killer – Sarkodie ft. Runtown
Rapping Drums – Flowking Stone
Nyedzilo – Edem ft Reekado Banks
One Thing – Stonebwoy ft. Damaris
6. BEST GROUP OF THE YEAR
VVIP
R2Bees
Dobble
7. BEST RAPPER OF THE YEAR.
EL
Guru
Pope Skinny
Manifest
Yaa Pono
Flowking Stone
Sarkodie
Medikal
8. HIPLIFE SONG OF THE YEAR
Samba – Guru ft. Singlet
Club – Donzy ft. Sarkodie
Raw – Guru
Borkor Die – Criss Waddle
RNS (Rich Nigga Shit) – Sarkodie
9. HIGHLIFE SONG OF THE YEAR
Enko Den – Daddy Lumba
Frema – Nero X
Gwe – Bisa Kdei
Confessions – Kofi Kinaata
Beshiwo – Becca
Christy – Dobble
Brown Sugar – Kumi Guitar
Guy Guy – Nana Qwame
10. HIGHLIFE ARTISTE OF THE YEAR
Kumi Guitar
Bisa Kdei
Becca
Kofi Kinaata
Nero X

11.REGGAE/DANCEHALL SONG OF THE YEAR
People Dey – Stonebwoy
Prove Them Wrong – Shatta wale
Yonnah – Samini ft. Luther
Nwansina – Ras Kuuku ft. Luther
Poison – Ebony
Pain Them – Rudebwoy Ranking
12. REGGAE/DANCE HALL ARTISTE OF THE YEAR
Stonebwoy
Ras Kuuku 
Samini
Ebony 
Shatta wale
Rudebwoy Ranking
13. BEST COLLABORATION OF THE YEAR
Forever – Eazzy ft. Mr. Eazi
Yewo Nyame A Yewo Adze – Nacee ft. Ernest Opoku
Onaapo – Nacee ft. Dee Aja
Confirm RMX – Medikal ft. Sarkodie
Taking Over – Shatta Wale ft. Militants
My Baby – Magnom ft. Joey B
Poison – Ebony ft. Gatdoe
Pain Killer – Sarkodie ft. Runtown
Beshiwo – Becca ft. Bisa Kdei
14. ARTISTE OF THE YEAR
Shatta Wale
Kofi Kinaata
Sarkodie
EL
Stonebwoy
15. SONG OF THE YEAR
Taking Over – Shatta Wale ft. Militants
Confessions – Kofi Kinaata
Christy – Dobble
Time Aso – Sidney
Onaapo – Nacee ft. Dee Aja
16. HIPLIFE/HIP-POP ARTISTE OF THE YEAR
Criss Waddle
Guru
EL
Flowking Stone
Sarkodie
Medikal
M.anifest
17. HIP-HOP SONG OF THE YEAR
God MC – M.anifest
Trumpet – Sarkodie ft. Tee Flow, Medikal, Strongman, Koo Ntakra, Donzy & Pappy Kojo
Lalafalama – EL
Confirm RMX – Medikal ft. Sarkodie
Tension – Okyeame Kwame ft. Cabum, Medikal & Sister Deborah
Gold – Guru
18. AFRO POP SONG OF THE YEAR
Ayoo – Shatta Wale
Solo – Article Wan
Taking Over – Shatta Wale ft. Militants
Forever – Eazzy ft Mr. Eazi
19. MUSIC PRODUCER / ENGINEER OF THE YEAR
Kindee
Willis Beatz
Highly Spiritual
Nacee
Danny Beatz
20. GHANAIAN TRADITIONAL ARTISTE OF THE YEAR
Sherifa Gunu
Atongo Simba
Norlla Wiyaala
King Ayisoba
Wulomo
(UK BASED AWARD CATEGORIES)
21. UK BASED GOSPEL SONG OF THE YEAR
You Are The One – Minister Owura Jay
Boafo ne Awurade – Hannah A. Donkor
Land of God – Justice Odoi
It will come to Pass – Sarah Clark
Onyame Tumi Adi Nyinaa Ye – Comfort Amankwah
Se Nyame Nni Mua – Mama Cee
Alpha and Omega – Amankwah Tiah
Me nsa aka Me De3 – Theodora Gospel
Give Me You – P.K. Boadi
My Soul Says Yes – Sonnie Badu

22. UK BASED GOSPEL ALBUM OF THE YEAR
Sounds of Africa – Sonnie Badu
Land Of God – Justice Odoi
Second Chance – Ernest O. Kyeremanteng
Eden na menye ma wo – Amankwah Tiah
Genesis – Minister King Bricky Aboagye
You Are The One – Minister Owura Jay
Onyame tumi adenyinaa ye – Comfort Amankwah
Boafo Ne Awurade – Hannah A. Donkor
23. UK BASED GOSPEL ARTISTE OF THE YEAR
Hannah A. Donkor
Sonnie Badu
Minister Owura Jay
Amankwah Tiah
Comfort Amankwah
Justice Odoi
Minister King Bricky Aboagye
24. BEST UK BASED NEW GOSPEL ARTISTE OF THE YEAR
Manye Stone 
Gertrude Forson
Minister Ike
Maame Serwaa
Hannah A. Donkor
Elder Ofori
Charlie Barnes 
Nana Achia
Sarah Clark 
Mama Comfort
Prophet Eliyahu Boateng 
Yaw Boateng
Bishop Merry Frimpomaah 
Alice Bee
25. BEST UK BASED GHANAIAN INTERNATIONAL ARTISTE
Stormzy
LD of 67 Group
Lethal Bizzle
Kwabs
Reggie N Bollie
Novelist
26. UK BASED AFROBEATS ARTISTE OF THE YEAR
Mista Silva
Eugy
Kwamz N Flava
Composers
Jaij Hollands
Atumpan
27. UK BASED AFROBEATS SONG OF THE YEAR
GB – Under Lover
Yxng Bane ft. Kojo Funds – Fine wine
Kojo Funds ft Abra Cadabra – Dun Talkin
Dun D – Badman
Atumpan – Let them say
28. UK BASED ARTISTE OF THE YEAR
Kojo Funds
Abra Cadabra
Mista Silva
Eugy
Atumpan
Juls
Dun D

29. UK BASED NEW GHANAIAN ARTISTE OF THE YEAR
Belly Squad
Niji
GB
NSG
Koffi Nyat
A.I.M
Jayo
30. UK BASED NEW DISCOVERY UNCOVERED ART OF THE YEAR
Lippy & K- hi Bangit
Tinkez
Under Rider
Geo Wellington
Ked 2 Besi
Akata Stone
31. UK BASED PRODUCER /ENGINEER
Composers
Kwamz
DJ Juls
Whoelsebutjuelz
Adeshyie Studios
Kingsbeatz
Hator Bros/Temaboyz
Black Kulcha Music
Team Salut
Jae 5
33. UK BASED GHANAIAN DJ OF THE YEAR
DJ Billy 
DJ Sawa
DJ Bibi
DJ Snypa 
DJ Fiifi 
DJ P. Montana 
DJ Invisible
32. LIFETIME ACHIEVEMENT AWARD
Mr. Dennis Tawiah – Akwaaba UK (UK)
Afro Moses – Musician (Ghana)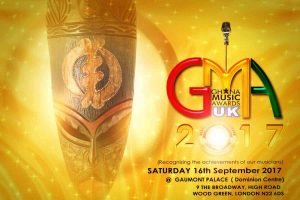 The official sponsor for Ghana Music Awards UK 2017 is DK Aluminuim Plus.
Media partners for the awards include ABN TV, Ghana Music.com, Afrobeats Radio and Hot Digital Online Radio.
For information on Ghana Music Awards UK 2017 please email info@theghanamusicawardsuk.com or call 0044 7894941667 or 0044 7984855999 and in Ghana on 0244844234 or 0244574854.
Official website: www.ghanamusicawardsuk.com
Facebook: ghmusicawardsuk
Twitter: ghmusicswardauk
Instagram: ghmusicawardsuk
#gmauk #theghanamusicawardsuk #gmauk2017