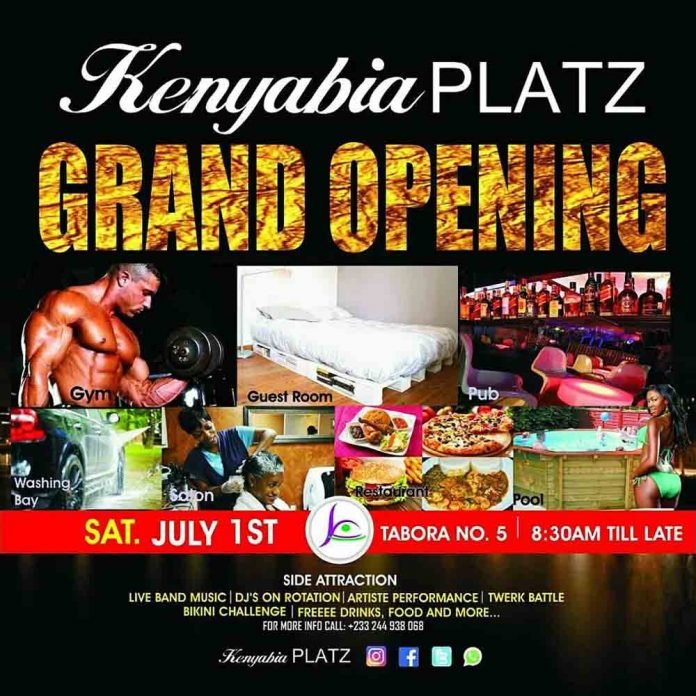 Ghana Has seen a surge in multi-purpose businesses – and Kenyabia Platz is the newest addition. On Saturday 1st July, the doors of Kenyabia Platz will officially open to the general public for business.
The unique thing about Kenyabia-Platz is the intimate connection we attach to serving our customers. A customer is guaranteed world class services at all the different sections of the beautiful leisure centre. With a large space and an African furnish with Bamboos, Kenyabia-Platz attends to each patron and customer with an unparalleled homely touch.
For drivers, free juice to calm you whilst you await the gleam look of your washed car.
For fitness enthusiasts, our gym is opened with a world-class fitness instructor who doubles as a dietician to maximize the benefits of regular exercise.
For the ladies, our hairdressers are abreast with all the latest trends in hair styling, and work to suit the clientele's exact specification. They are ever ready to offer advice on how to maintain healthy and beautiful hair. The manicure and pedicure section of our saloon is something befitting for Kings and Queens.
Our bars are fully stocked with assorted drinks for all. Pito, as well as other local drinks are available at both bars within the leisure center.
With a beautifully designed pool and Jacuzzi, Kenyabia Platz is the ideal venue for your swimming and pool parties at anytime of the day or night.
What meals would you want to enjoy?
From continental to indigenous cuisine, our professional chef, and kitchen staff is always ready with a meal that will make you a returning customer. With a well thought-out menu, our recipes will definitely make Kenyabia Platz your number one eatery.
If you love to party obscurely, the Kenyabia Platz VIP section will be your favorite spot; with a waiter assigned to each VIP section, customers are guaranteed an experience that rivals the hospitality of their homes.
Our guest rooms are also available for those who might want to
take a quick rest before continuing the party.
Kenyabia Platz is obviously one of the finest and ingenious additions to the Ghanaian hospitality industry.
The Grand Opening of #KenyabiaPLATZ will have a surprise guest performer whose live perfomances have always be funfilled. Your guess is as good as mine. Also performing will be Marce Dagaati an upcoming artiste to look out for.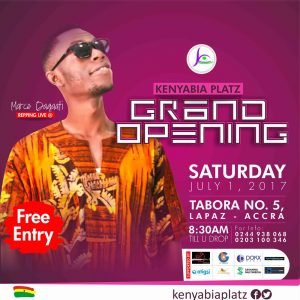 Prinx Pumi who will also be bringing his infectious music all the way from Bolgatanga.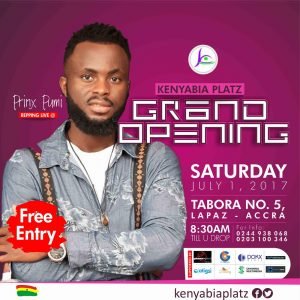 The "No Bieber" crooner, Teri Wiizi will also bring that amazing voice all the way from KNUST to wow the audience as well as reinvent rnb.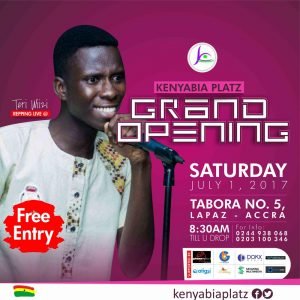 Kartam Graytnes will also be there to deliver danceable music with a Savanna twist.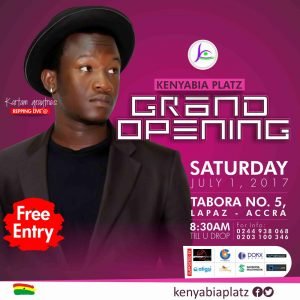 The date is Saturday 1st July 2017. Doors open at 8:30am with a variety of activities leaving no room for "dullment"…Artiste performances start from 7pm.
It's a 24/7 party with loads of freebies.
Kenyabia Platz is Located in Accra, Abeka – Lapaz opposite the Tabora No.5 bus stop.
This event is powered by www.atigsi.com, www.ghanamusic.com, www.hypingghana.com, www.thesavannaonline.com, www.georgebritton.com & www.extraarena.com
Come and experience a jamboree version of our services.
For enquiries contact 0244938068