In a country where we spend about $230 million on treating injuries, and curbing traffic fatalities, it is incumbent on the status-quo to find effective ways of mitigating the two. Statistics continue to show a surge.
Recent statics from the National Road Safety Commission (NRSC) has put motorcycle related accidents at 1,069 compared to 956 in 2018, representing an 11.82% increase. That is an alarming figure. In the first quarter of 2019 alone motorcycle crashes killed 169, and injured 718 commuters. This calls for an-all-hands-on-deck approach to curbing the situation.
In its own small way, the Ola-Cathedral, a Catholic Church in Tamale has implemented a policy dubbed "No Helmet, No Entry". This is basically to ensure members, as well as visitors to the church uphold the precautionary measure of wearing safety helmets when riding.
I believe this is a timely policy; especially considering the number of motorbikes that ply the streets, and roads of the Northern region. It is worth commending, and emulating. If the various stakeholders of the Ghanaian society put in place conscious efforts like what the Ola-Cathedral has done, it would go a long way to reduce the impact of road crashes on commuters.
Motorcycles are an important means of transportation in the Northern parts of Ghana, it is however not strange to find riders without helmets. Appearing to be an accepted norm, the effects are only felt when the crashes occur. It is somewhat similar to the issue of riding unregistered motor-bikes vis-a-vis crime. So, it's always a delight to know that sections of the Ghanaian society are making efforts to improve road safety.
I therefore say kudos to the Ola-Cathedral in Tamale, if this is emulated by other churches, government can commit the humongous amount of money dedicated to offsetting bills related to road-crashes to other ailing sectors of the Ghanaian economy.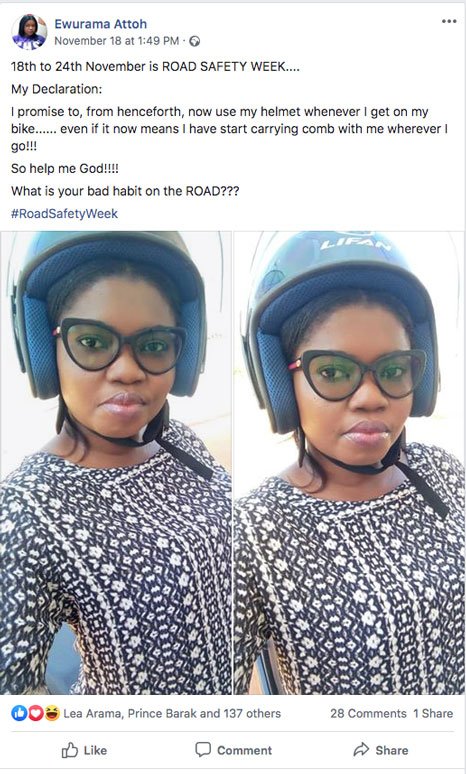 In a related post on Facebook a popular radio presenter in Tamale, Ewurama Attoh has promised to always wear her helmet when she's riding.