John and John Premiers Tomorrow!…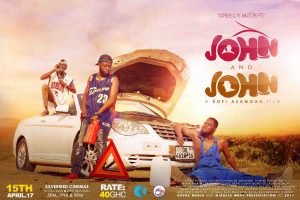 Benson Nana Yaw Oduro Boateng popularly known as Funny Face has finally featured in a movie – the movie John and John which premiers tomorrow Saturday 15
th
April 2017 at the Silver Bird Cinemas is a masterpiece with so many stars that Funny Face cannot afford any complacencies.
His performance as a comedian, musician and an actor in Chorkor Trotro and the ongoing "Cow and Chicken" TV series may not necessarily be in anyway close to his character in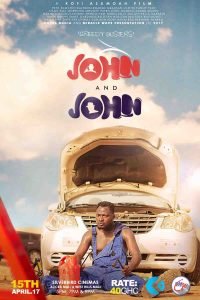 John and John by Kofi Asamoah's Kofas Media and Miracle Wave Internatonal; but fans will be looking out for how well their favorite slapstick comedian does in his first movie appearance.
Funny Face has turned down several movie scripts but as to why he accepted to play a role in John and John remains a mystery only Kofi Asamoah can help unravel.
Having entertained Ghanaians on several platforms in several ways, can this move take Funny Face to another level or will it cause a dent in his personality as an entertainer?
He is one of the most popular comedians of now – having dabbled in standup comedy & music, and his recent "Cow and Chicken", we are inclined to agree to his creativity has no boundaries.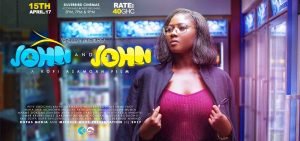 The story of John and John is one deeply rooted in choices, greed, evasiveness, bold confrontations, deals & counter-deals, and the desire to win.  
Grab your tickets from all Telefonica Shops at: Accra Mall, Achimota Mall, Junction Mall, Osu Oxford St. Mall, West Hills Mall and Silverbird Cinemas – Accra Mall & West Hills Mall.
Or you can call for ticket delivery: 0248-279-487/0268-151-161.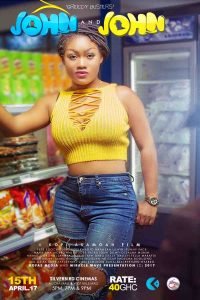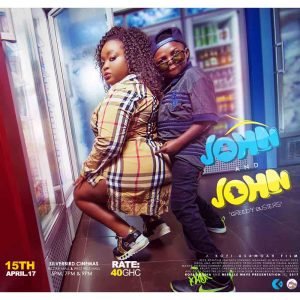 Story By: Atigsi-Badek Afoko