Mental Health continues to be an albatross on the neck of successive governments; over the years government has paid little to no attention to the mental health needs of the populace – a situation that hampers the smooth delivery of quality healthcare to people suffering some mental or psychological disorders.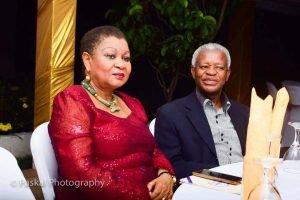 We've had situations where psychiatric health personnel have threatened to completely lay down their tools if they will not be resourced to perform the novel duty of attending to mental health patients. This has led to several unconventional initiatives to raise funds to support the smooth running of the respective psychiatric hospitals.
Accra Psychiatric Hospital Fund Raising Dinner
In line with the above efforts, workers and management of the Accra Psychiatric Hospital including health-care personnel of the facility organized a fund-raising dinner at the Police fitness centre in Accra on Saturday 6th May. This was in a bid to raise an Ghs500,000 to purchase an ECT Machine and some other equipment for the hospital's lab.
Even though the event raised a little over Ghs60, 000 on the night; several pledges were made by individuals and corporate body representatives towards the intended goal of the event.
The event was characterised by a display and sale of beautiful art pieces produced by some of patients at the facility; some of the art pieces birthed a nostalgic feeling which re-emphasized the fact that, psychiatric or mental disorders do not necessarily signify a lost cause for a person.
In attendance was a representative of the Deputy Minister of Finance, Ms. Joyce Aryee, Corporate Body representatives, TIGO, Enterprise Group, Pharmaceutical Association of Ghana, as well as private individuals and health personnel from across the Ghana.
Poet Badwenba was there to add the color found in the weaving of words to the event – making it a complete night of purpose, fun and a commitment to humanity.
More of such events will be organized to help raise the needed funds to help the Accra Psychiatric Hospital serve the public better.
To support the fund raising initiative, kindly contact Franca on 0244027856 or Emmanuel on 0541260268.
Story By Atigsi-Badek Afoko