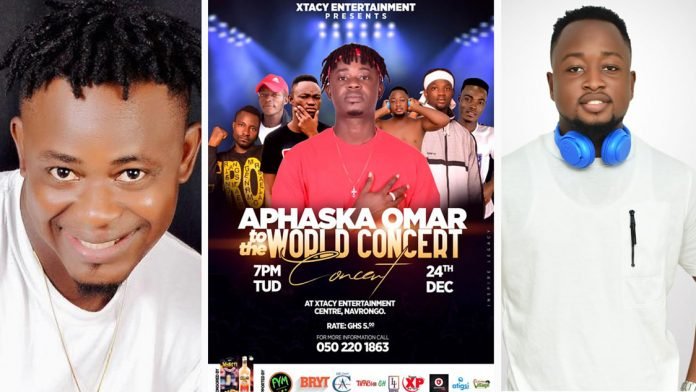 As the Upper East Region readies for the Aphaska Omar to the World Concert (AOTTWC), there is the good news; two fine artistes have chosen the path of maturity to ensure their craft remains lucrative.
The music industry in Ghana appears to have embraced "beef" as a part of the music culture; however, several incidents abound that informs the view of "beef" being retarded. It is therefore amazing to see artistes who have long been at loggerheads bury their differences and mount one stage. It's even better when one of the two artistes mounts the stage of the other for the purpose of pleasing the fans. This is the case between two of Upper East Regions finest musicians; Aphaska Omar and Fasetwo.
For a really long time, the two artistes have been perceived to be enemies due to some lyrical tussles they engaged in for a prolonged period. It is therefore refreshing to know that Aphaska Omar will be joined by Fasetwo on the maiden edition of Aphaska Omar's Aphaska Omar to the World Concert scheduled for the 24th of December 2019. The event which is a collaboration between the Accra-based Navrongo artiste and Xtacy Entertainment Centre in Navrongo is believed to be the dawn of an annual event headlined by Aphaska Omar.
Aphaska Omar has been in the music business for quite sometime; starting out on the streets of Navrongo ; he honed his talent and mashed stages whilst leaving room for growth. So when the opportunity came to take his craft to the nation's capital, he took it; and has since shared stages with several mainstream artistes including Shatta Wale.
He's also been on events staged in several parts of the country, in the process, endearing himself to the many music lovers that abound in Ghana. This event is therefore his official claim to being truly a Kassena-bu with love for his home and region.
Aphaska Omar to the World Concert (AOTTWC) is sponsored by Wobeti Atadwe Ginger.