A plethora of beauty pageants inundates the entertainment and showbiz space in Ghana; and the question on the lips of Ghanaians continue to be, "are organisers objectifying women by limiting their capabilities to beauty and curves?" Truth be told, a few seek to go beyond the crowning of a beautiful face with what is perceived to be an attractive physique. They take contestants through grueling questions exuding the impression of pursuing a social project that is meant to empower society's vulnerable. Miss Feok is one of such pageants which focuses on going beyond the looks of women.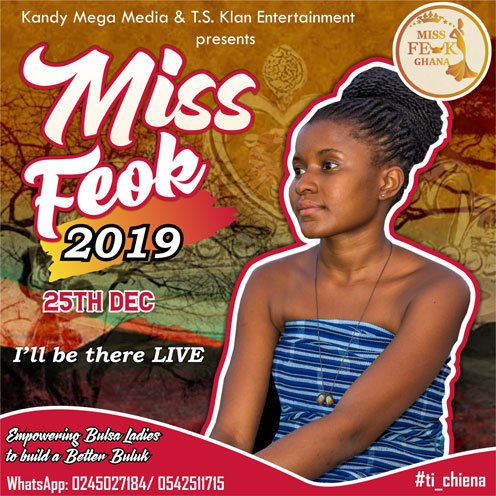 Miss Feok serves as a platform for young ladies from the two Builsa Districts of the Upper East Region to exhibit ingenuity through talent, knowledge of culture, and a battle of ideas capable of affecting the development lapse of Buluk positively. This is why participation is limited to only students who have graduated from a tertiary institution, or are in one.
In its 4th year, this edition is set to be one of the best editions as the focus of the pageant is to empower a Builsa Lady to help build a better Buluk. This is enshrined in the Theme "Empowering Builsa Ladies to Build a Better Buluk".
The winner of this year will initiate a social enterprise that will seek to empower a vulnerable lot, but with sustainability as a guide. The organizers, Kandy Mega Media & TS Klan Entertainment are poised to ensure that this edition will be the beginning of revolution; one that would find Builsa women rise to the occasion of fixing the socio-economic problems of Buluk.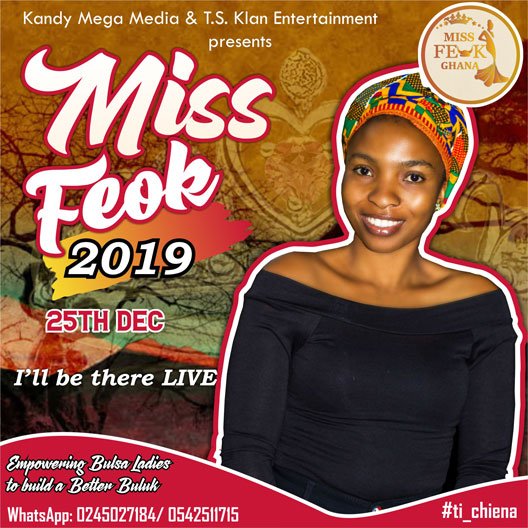 Miss Feok is one of the most popular Beauty pageants in the Upper East Region. It will be held on the Wednesday 25th December 2019 inside the No Hurry In Life Hotel in Sandema.
For further information contact 0245027184 or 0542511715