Daanga's Dream
The dream of every upcoming artiste is to present art-pieces proximate to success. Pleasing the crowds, getting the cheers of fellow artistes and receiving nods from relatively iconic personalities in the chosen field of art. Daanga is obviously enjoying his entry into main stream Ghana music scene.
It's apparent Daanga's journey into 2018 is one filled with an edge to edge broad smile, suggestive of an imminent pinch-hit. If his latest song is anything to go by, he is definitely ready to serve fans awesome music from Gonja-land.
To release a beautiful song like "Wind For Me" featuring no other than Ghana's number one cross-genre artiste Quata is an indication of preparedness. Whilst many well-established rappers are scared to get on a track with Quata, young and daring artistes continue take the opportunity to hone their talent by getting on songs with Quata.
BeatJonkeyz and Talent realization – Daanga
Suffice to say, Daanga is one of Quata's prodigy's currently being tutored to master the art of rap and for that matter music. He's honing his talent under the tutelage of BeatJonkeyz a crew known for exalting all the elements of hiphop and fusing all genre's that make it work to produce a unique sound.
In the last year, the studios of BeatJonkey's led by Quata & Kelise Vee aka KV-Bangers, under Bakus Entertainment has released countless monster songs including the famous Quantum Riddim album by Quata Budukusu. Having made songs for parties, social causes, and dropped game changes like the Quatun Riddim, it is only prudent the team added some underground artistes to their fold.
The choice of Daanga is simply based on the fact that he deserves more from the industry as one of the first to rap in Gonja.
Daanga is a re-introduction to the productions that will birth seduction as a saturated music concoction takes over the diluted scene of nothingness. Yes, he's the man in a mask from Gonja-land; ready to ink the name of the savanna in music as contenders and not followers.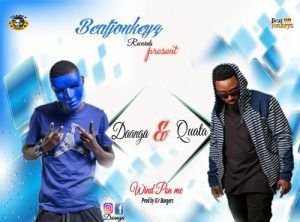 Enjoy and Download Wind For Me below.
[disk_player id="1558″]