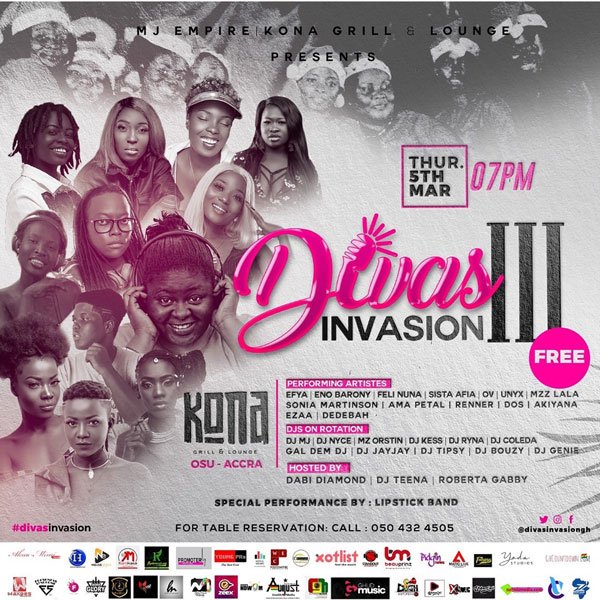 #DivasInvasion is an annual event that seeks to promote ladies in Ghana's Creative Arts/Entertainment industry. The event offers the platform for ladies to showcase their talents and this serves as a confidence boost to these talented ladies. The one night event sees performances from lady DJs, Artistes, MCs, Commedians and more. This event is the flagship event under MJ Empire which is run by one of the pioneers of female DJs; DJ MJ.
Speaking to DJ MJ about what birth the idea for Divas Invasion she said that, for her coming up in the industry she faced a lot of challenges and still encounters some to this day but what really struck her was the fact that it was really hard to see fellow women doing what she does (disc jockey). So she initially started an event called "Take Over" in 2012 to help discover other female DJs in the industry. She said "through Take Over we discovered DJs like DJ Jay Jay, DJ Ann, DJ Mitchy, DJ Amaa now Amaarae who is a beautiful soulful singer now and many more female DJs."
"Take Over" then grew to have a broader vision in order to also involve other female acts and not just limited to female DJs hence the change of name to Divas Invasion in 2015. DJ MJ made it known that even though Divas Invasion started a long time ago she only started having major success with the event two years ago when she hosted an edition in Ho, Volta Region and Kikibees, East Legon in 2018 and 2019 respectively.
DJ MJ reiterated that "Divas Invasion like the name suggests is to bring all the female acts from their shells or hiding places to invade the male dominated sides of entertainment confidently with no apologies. This is to give the ladies and women with vision and style the confidence they need on stage and everywhere they go." This is because women in general are rare in the entertainment industry and very few are really striving to remain relevant in this very tough industry hence the need for events like this to help promote and showcase their talents and crafts.
This year marks the 3rd Third Edition of Divas Invasion and it promises to be electrifying! Under the theme "We Don't Set Bars"; as in "we want to tell the ladies that you don't have to give yourself bars or limits in life. Once there's passion for what you do you're are limitless. As women a lot of factors come in play that prevents us from moving to the highest levels but regardless of those challenges, we as women need to keep moving and breaking those bars, limits and status quo society has 'set for us',"- DJ MJ said.
The Third Edition of Divas Invasion is slated for Thursday 5th March, 2020 at Kona Grill and Lounge, Osu at 7pm prompt and it's absolutely free. This event is opened to all persons above 18.
The event would see a host of perfermonces from top female Artistes – Efya, Eno Barony, Feli Nuna, Sista Afia, OV, Unyx, Mzz Lala, Sonia Martinson, Ama Petal, Renner, DOS, Akiyanna and more. Top female DJs – MzOrstin, DJ Nyce, DJ MJ, DJ Kess, DJ Ryna, DJ Coleda, DJ Jay Jay, DJ Genie, Gal Dem DJ and more. With a special perfermonce from the only all girl band – Lipstick Band. The event would be handled by the Queens of the mic – MCs DJ Teena, Roberta Gabby and Dabi Diamond.
Divas Invasion has the potential to grow bigger and better and is calling for support from all. To support Divas Invasion kindly follow them on Facebook, Instagram and Twitter – @divasinvasiongh or email – divasinvasion@gmail.com or call +233 (0) 50 432 4505 for more information.