As a yearning young fellow, I keep on thinking outside my extension. I am excessively ravenous for progress, in this way, my connections and dealings with individuals keep on being on a level of "what next", "what ought to be done" and "what would I be able to do. This state of mind has regularly driven me to find things can best be described as enigmatic. Ayillah is one such find – I wish everybody would in a flash grasp for the enchantment in her voice.
In a recent conversation with Hi-life legend, Pat Thomas, his admiration for the late Christie Azumah (member of the Uppers International Band) of "Din Yi Sugri" fame, translated into a desire to see another beautiful voice rise from the Upper East Region. Ayillah who sounds a bit like Christie Azumah in contemporary times is most likely the one Pat Thomas has been waiting to hear.
Hey – Ayillah
Sweet-voiced persons and seductive lyrics are like synonyms. "Hey", which is Ayillah's last song released some weeks ago has a love-struck Ayillah making attempts at wooing her dream man. Sang over a beautiful instrumentation, Ayillah gets to sing her heart out in both English and her native language Frafra.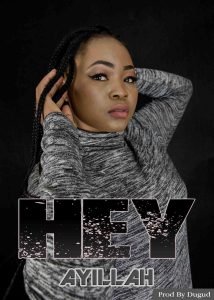 Even though she's been performing and recording music after the 2013 edition of Vodafone Icons, her quest to occupy the top has been daunting. Despite the release of several potential chart-toppers, Ayillah is yet to make a major breakthrough. But one thing is for sure, a rare gem gifted with an amazing voice can only put out beautiful music; and that's what Ayillah does with each release.
[disk_player id="1883″]
Ayillah's Zolko
Art and for that matter music elicits a lot of figurative expressions. Now, if those expressions are beautifully weaved into music, the exhilarating effect cannot be overlooked. Ayillah takes fans to the dance floor with this rich dance tune which basically makes light of life's struggles by dancing them off. In this song Ayillah relates her dance skills to that of a mentally challenged person. She is however quick to remind listeners that though she is very engrossed in her dance, she isn't mentally challenged. The saying is a Frafra proverb that seeks to caution people from hasty generalization.
[disk_player id="1881″]
Is Ayillah relevant?
One may attribute Ayillah's current status to either the fact that despite recent strides by Atimbillah, Soorebia, Don Max and some other outstanding musicians, the investments that could spur these acts including Ayillah to greatness, are not forthcoming. The other hurdle is probably the little to no attention given to female artistes in the savanna regions.
Dare I say, the current crop of female artistes with the exception of artistes like Ayillah, Wiyaala, & Sherifa Gunu cannot truly boast of amazing vocal delivery. The over reliance on auto-tune continues to confuse music critics; but with miming still playing a major part of the show business in the savanna regions, it might take a bit more to truly appreciate some of the female singers and performers.
No Grunts from Ayillah
From all indications Ayillah has decided to channel her strength into producing beautiful music, the kind that makes her repertoire rich and worthy of envy. In the event that she formally lands a major record deal, one thing that can be guaranteed is obviously an overdose of good music from the beautiful singer.
The complexity of showbiz as a business continues to thicken, but the rewards from bearing the brunt are worth the struggle.
Keep the good work going Ayillah.
Ayillah has featured on songs by Carl Bingx, Soorebia, One 9ra and several other artistes from the savanna regions.