Background to the request of Joseph Achana
Sometime in December, I published an article about a young man who gained admission into KNUST. The said man, Joseph Achana, was faced with losing his entry because he couldn't meet the payment of the initial installment of fees. His family, who would have helped, also prioritized final funeral rights over the gentleman's education.
However, with an intervention from social media users, particularly FaceBook, Joseph Achana has paid his fees and will be starting school soon.
Suffice to say, 2021 appears to have seen a surge in students seeking society's intervention to access education. Unbelievably, more and more are seeing the need to extend a helping hand to the needy. However, one crucial question remains; how do these students manage to complete the entire study period? Is there a way to institutionalize public giving so that students like Joseph Achana cannot access a Student Loan?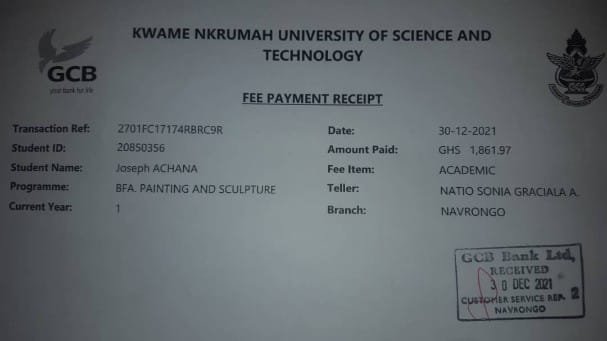 What he needs to do to Survive in School
Joseph Achana is poised to pursue BFA, Painting & Sculpture with all diligence. But the challenges ahead won't be easy. He would have to strive to survive from course material to living expenses. Like the renowned Lawyer Samson Ayenini did while at the university, Joseph Achana would have to employ innovation to stay at KNUST in Kumasi. He may have to get a part-time job or find a way to make some money before challenges snatch his dream.
The surest way Joseph Achana would survive his time at KNUST
Sincerely, I believe Joseph Achana needs some sustained support aside from his capabilities. Maybe it is time for someone to guarantee his annual fees for the next three years. That way, he can use whatever he makes by way of a job to take care of his course material, accommodation, and other expenses.
On the brighter side, some Builsas are making strategic efforts to start an educational fund to help needy students from the Builsa Traditional area of the Upper East Region. With that, many students like Joseph would get an opportunity to live their dreams of accessing university education.
I wish Joseph the best of luck as he begins this journey. If you want to extend a helping hand to Joseph, kindly find his contact details in this LINK.