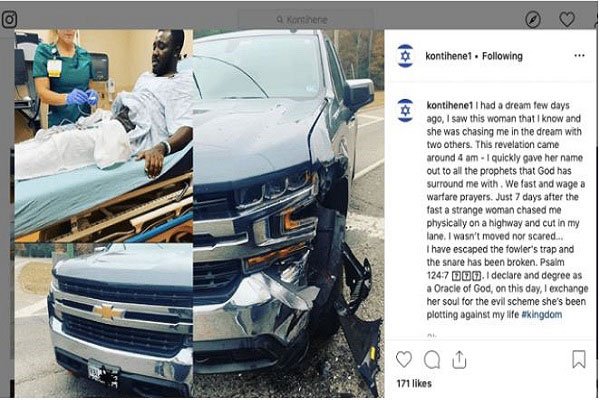 Renowned Ghanaian rapper, Kontihene, has gracefully escaped a gory accident taking into consideration his newest post on social media.

Describing the unfortunate event on Instagram, the rapper claimed he saw everything coming in a dream before the actualisation of the accident in reality.

He said God revealed the accident to him in a dream hence he called on his able men of God to remember him in prayers so that the calamity can be reversed. The accident happened and he escaped unhurt.

"I had a dream few days ago, I saw this woman that I know and she was chasing me in the dream with two others. This revelation came around 4 am – I quickly gave her name out to all the prophets that God has surround me with. We fast and wage a warfare prayers. Just 7 days after the fast a strange woman chased me physically on a highway and cut in my lane. I wasn't moved nor scared…

"I have escaped the fowler's trap and the snare has been broken. Psalm 124:7 ????????????. I declare and degree as a Oracle of God, on this day, I exchange her soul for the evil scheme she's been plotting against my life #kingdom", he posted on Instagram.