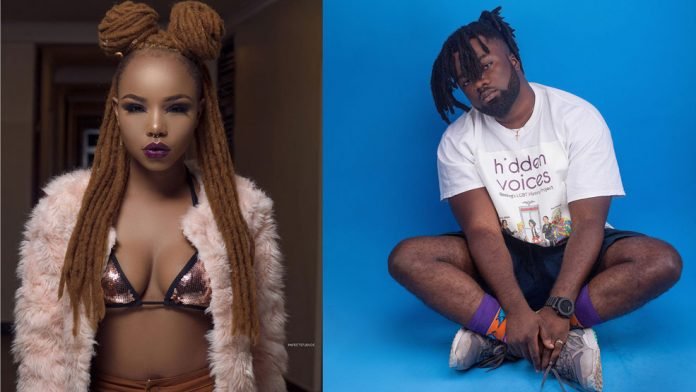 One of Ghana's finest composers and vocalists who has remained seemingly underground is Lord Paper. His ability to string awesome lyrics together is one thing we can't doubt. Rising to visibility in 2018, the young and reserved singer employed a pornographic antic in his first release titled Ewurama. Unfortunately, this entry strategy didn't go down well with many; to the extent that the video for Ewurama was taken down by Youtube. Rosa Ree and Lord Paper may not be blood relations, but their thoughts exude some family ties.
As if by a design to imitate or take-up inspiration from Lord Paper, Tenacious Tanzanian female rapper Rosa Ree released a song and video titled Vitamin U. However, she was handed a ban from performing for the next six months in November.
The Tanzanian arts industry regulatory body known as Baraza la Sanaa la Taifa (Basata) said the said piece of musical work by Rosa Ree which features her Kenyan-musician boyfriend Timmy Tdat contravened regulations. The authorities further said the music video to the song "went against the country's morals".
The ban/suspension doesn't only apply in Tanzania; Rosa Ree will not be allowed to perform outside the country, she's was also fined $870 according to a report by Tanzania's The Citizen Newspaper. The acting Basata CEO Onesmo Kayanda, The Citizen reports, said the body found the rapper had made two mistakes:
In lieu of the ban, the original video uploaded to Youtube was taken down for obscene content and replaced with a cleaner version which features blurred scenes.
Checkout the video for Vitamin U by Rosa Ree below.
Lord Paper since the release of Ewurama has proven to have something many Ghanaian musicians can only dream. He's gone ahead to brave the public ridicule as a result of Ewurama to release songs featuring S3fa, Coco Treyy, Freda Rhymz, Enam , Sister Deborah, Mr. Eazi, and Medikal. The quality of the releases continues to be the reason the young man is now being taken serious.