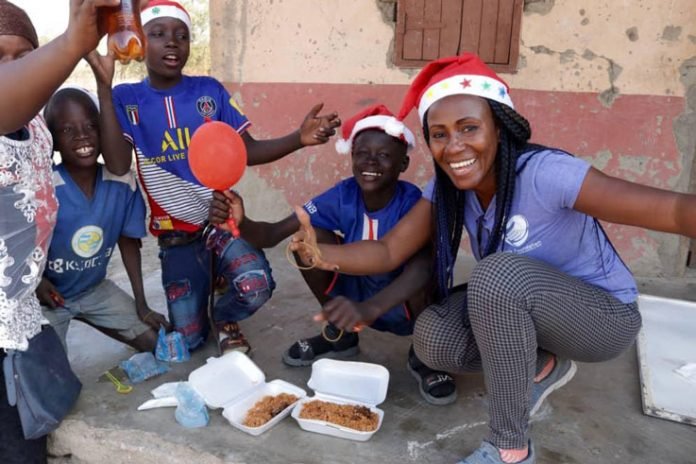 The "Ku Zo Ku Duba" singer, Wegeiwor, known in private life as Dr. Patience Aseweh Abor has once again extended the kindness of God towards her life to the less privileged. On the 26th of December 2019, she and her ExGlo Foundation team embarked on a mission to the Builsa South District of the Upper East Region of Ghana. Their purpose was to treat children of the Doninga -Yipaala Primary school to a joyous and fun-filled Christmas, as well as give clothing to the community as a whole.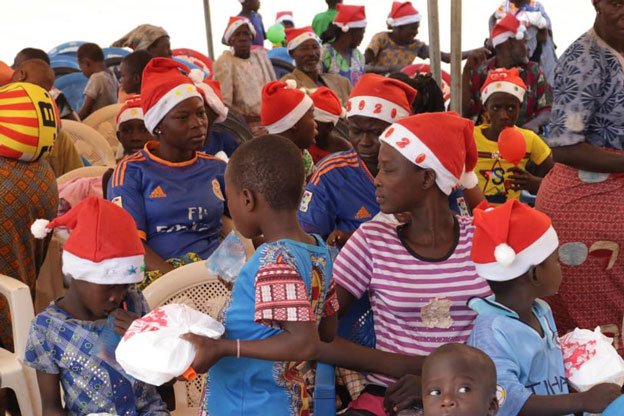 True to the purpose of the mission, the children in the community who live in relative squalor were excited at the rare show of love by the UG lecturer cum gospel singer. With abundant food, drinks and fun games, the team spent hours interacting with the children, women, and some community leaders; encouraging them to make the most out of every situation; whilst re-assuring the community of a continuous effort to support the pupils of the Dogninga – Yipaala Primary School.
An obviously happy child

Second from Left…Wegeiwor in a pose with some women at Dogninga-Yipaala
In the words of Wegeiwor;
"They came with expectations and we trusted God to meet them. They were fed, entertained and carried cloths home. Our job was complete. Thanks for all the donors and volunteers of the ExGlo foundation. God bless us all"
This makes it the third time the humble Dr. Patience Aseweh Abor & her ExGlo Foundation has been to that community. The first which was in 2017 brought them face to face with the plight of the children in that community. The second which was in 2018 distributed educational material to the pupils of the school.
Having braved all odds to become a senior lecturer at the University of Ghana business School, Wegeiwor has made it a part of her being to venture into the nooks crannies of rural Ghana to support people, especially children and women in the savanna regions of Ghana to live a dignified life.
With emphasis on education and healthcare, she has over the last few years made time off a busy schedule to impact the lives of many.
Checkout Projects by Exglo Foundation.
Exglo means extending God's love, and that is exactly what the ever-youthful Wegeiwor is doing.