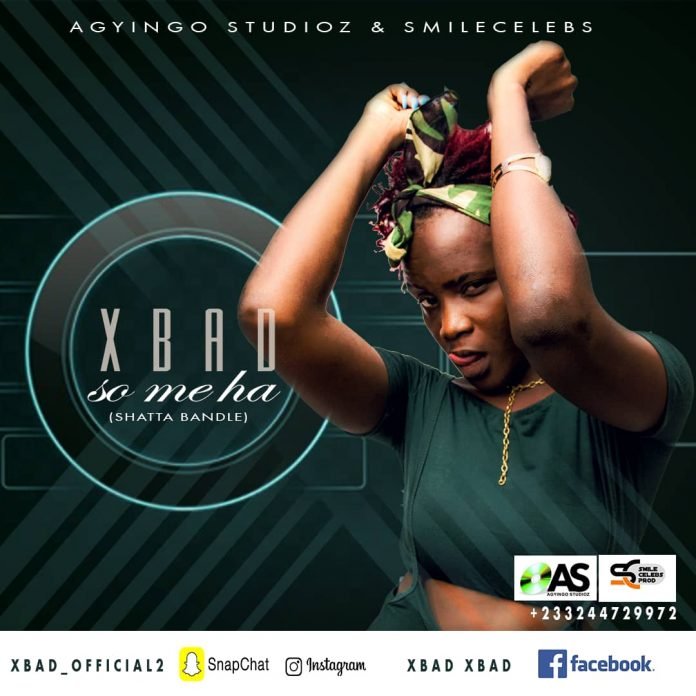 So me ha is an interesting piece of production by one of Ghana's treasured producers, Aygingo. Performed by Dansoman based Shefkano aka Xbad, it exudes an alternative presentation of dancehall, laced with impressive vocals from the fast-rising singer.
The live afro-fused-dancehall instrumentation gives this sound a uniqueness unparalleled. Call it an alternative to some of the noise making rounds and you wont be faulted.
Shefkano who is of Ghanaian(Northern) & Nigerian(Kano) extraction is definitely a musical gem to look out for. Having gone from hussling as a trader on the streets to incorporating music in her hussle, ShefKano who is popularly known as Xbad for her amazing taste when it comes to retailing beautiful clothing, is fast owning the streets of Dansoman; with many of the youth subscribing to her caller-ringtones and pushing her brand in several ways.
Even though the song is a saucy, naughty and a little sexy, it thrives on the comic relief birthed by Shatta Bandle and his perceived wealth. ShefKano aka Xbad, tries to use her woman prowess to woo Shatta Bandle to be her lover; promising him a jolly life-time. Yeah, she's literally begging the Young rich "nigga" to touch her in all the right places.
So Me Ha is available on the following digital platforms
Smart URL: https://backl.ink/113013956
Spotify: http://open.spotify.com/album/6n3zrtLkzrz0cFqqVrqqyF
Deezer: http://www.deezer.com/album/125779182
Google Play: https://play.google.com/store/music/album?id=Byhl2lnpdib2sqo7tmsjil53xmm&tid=song-Tzldgd2uwoyocwl2qf4udjj6mii
Tidal: https://listen.tidal.com/album/127520971/track/127520972
Amazon Music: https://music.amazon.com/albums/B083L6X69N?ref=dm_sh_9379-3408-dmcp-9a0a-89efd&musicTerritory=US&marketplaceId=ATVPDKIKX0DER
iTunes: https://music.apple.com/in/album/so-me-ha-shatta-bandle-single/1494047907
Apple Music: https://music.apple.com/in/album/so-me-ha-shatta-bandle-single/1494047907?i=1494047907
Boomplay: https://www.boomplaymusic.com/share/music/16355105