Beat Lang3, a prelude to Kiimakinna Concert – 30th December in Bolgatanga
Soorebia continues to dominate the Upper East rap scene with infectious rhythms and an ingenious weave of lyrics in multiple dialects. His latest feature is on a jam titled "Beat Lang3" By Azkonna, co-founder of BBT & one of the nations fastest rising producers. Released on the 23rd of December 2017, the song is already making waves as the monster beat-maker hints of his other side – a musician. Beat Lang3 is a fusion of traditional rhythms from the Upper East Region.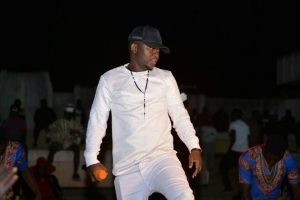 Rapping in Frafra & Kasem, Soorebia exudes the fun-nature of African music with Azkonnah doing mind-blowing interludes that gives this raunchy song life.
Beat Lang3 is a prelude to what fans should expect at the much publicized second edition of Soorebia's own annual concert "Kiimakinna". The free event which comes off on the 30th of December at the Bolgatanga Jubilee Park is dubbed "The Genesis". It will be that one night where Soorebia drops all the hits from his repertoire as a rapper and several unreleased bangers to to officially thank fans for the love and support through the years.
Soorebia to thank fans with FREE concert in Bolgatanga
Soorebia will be joined by several other artistes from the savanna area. Confirmed performers include Fasetwo another of the region's finest rappers. Other enigmatic performers include Don Max, B-Wayne, Nitchey, MC Faaj, Double Tee, Gingsen, Swagbwoy Dagao, George Kliff & Kundivi.
Each of the guest performers have a proven track record as crowd pleasers and so fans should expect nothing short of fireworks. From Fireblaze to BBT, one will need to be there to truly understand the magic of Kiimakinna.
In a facebook post Soorebia stated;
" #KiiMaKinNa is not just a Concert, it's a Festival.
A way to celebrate music made by people of the upper east region for the rest of Ghana.
Your support is needed.
Come and let's celebrate Music, Life and a successful year as well pray for a better year ahead.
#BBT"
Last year's edition which took place at the Kofi Charley Floor inside the Bolgatanga Catering Rest house had guest formers such as Ayillah, Zaazzy Kundivi, Sarauta, Donmax, Stevo, Swagplus (Skery x Nambawan),TMD, Rockcity, Showboy, and Faze2. Also from Tamale was SKY the Tamale Boy, One 9ra, & Double Tee. Their brilliant performances served as a bonus as the man of the night Soorebia crowned their support by giving a splendid performance.
Remember it's Kiimakinna; the Genesis at the Bolgatanga Jubilee Park, 30th December 2017 and its FREEEEEEEEEE. Let's end the year on a good dose of musical performances. Time is 6pm prompt.
Listen & Download Beat Lang3 by Azkonnah Ft. Soorebia below.
[disk_player id="1532″]
You may like AZKONNA'S "KISS ME" BY FANCY GADAM'S & MEDIKAL
Checkout a performance by Soorebia from last year.