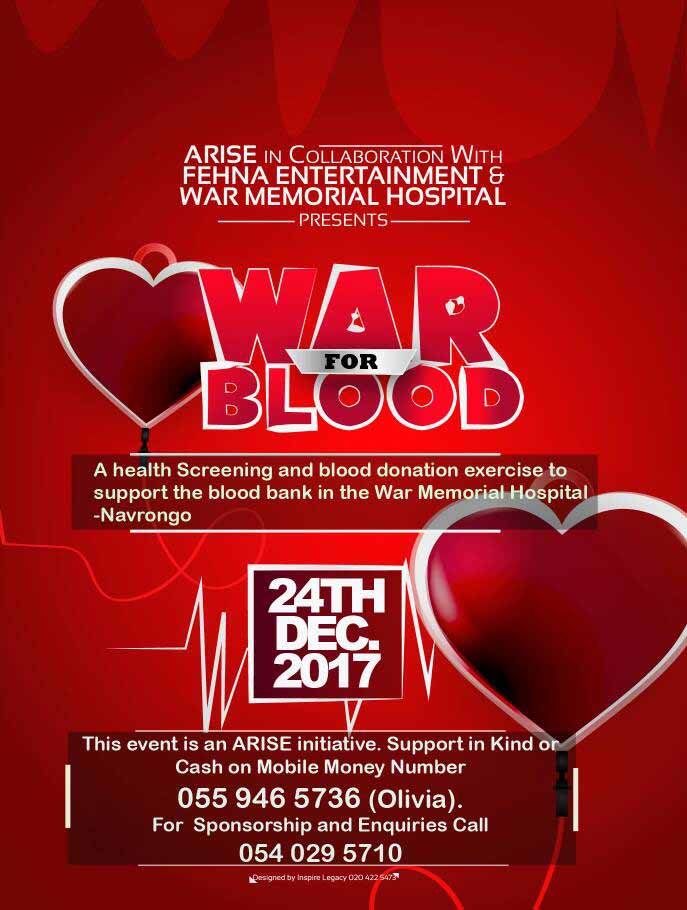 War4Blood is an "ARISE" initiative; a youth group in Navrongo in collaboration with Fehna Entertainment, organizers of Miss Navrongo, and the War Memorial Hospital are organizing a free health screening and blood donation exercise in Navrongo to help sustain the blood bank in the War Memorial Hospital.
This is on the back of some sorry statistics from the hospital laboratory this year, which shows that at least 3 blood transfusions are done each day in the hospital. This means the demand for blood in the hospital is high. This situation has triggered reason in the youth groups to interest in helping to sustain the blood banks and save lives.
According to the Arise group, it would take a collective effort to overcome the problems confronting the people of Navrongo and they believe it is about time the youth took interest in the welfare of the people.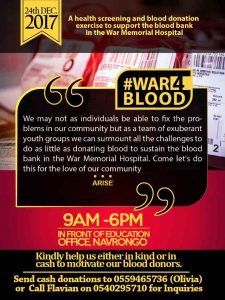 Known for organising the famous annual Miss Navrongo Pageant, Fehna Entertainment believes that the well-being of the people of Navrongo should be of paramount concern to everybody.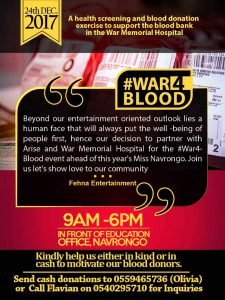 The two groups have thus taken up the challenge galvanizing support from all the youth in Navrongo to embark on this exercise which they christened "War for Blood" suggesting the aggression with which they want to get blood for the hospital.
The event is slated to come off on the Sunday, the 24th of December 2017 at the forecourt of the Ghana Education Service (GES) offices in Navrongo from 9am – 6pm.
The event is expected to draw its numbers from groups and cliques like Fehna Entertainment and its Miss Navrongo 2017 contestants, Versatile Model Agency, Savanna Records, Drink Ginger, Elephant Money Gang, OTWC Empire, Royal Empire, Carl Blingx and his JogoBu Empire, 6-Figures, Royal Empire, ATM, Cable 4, Dope Guys and individuals from the general public.
They are thus appealing for funds to help the motivate their blood donor.
Cash donations can be made via mobile money to 0559465736 (Olivia).