The Savanna incursion features Soorebia
The savanna regions of Ghana continue to make a musical incursion into mainstream music; over the past three years, numerous artistes have made statements by releasing world-class songs across multiple genres. Suffice to say, the savanna has assumed a game changer position. From filling stadia, selling huge amounts of paraphernalia, to initiating concerts that celebrate their ingenuity, artistes are not resting; a situation that has drawn the attention of mainstream media. One artiste who has proven to be a microphone addict is Soorebia.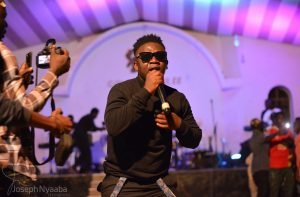 Soorebia respects Hiphop
Watered-down hip hop appears to have invaded the hip hop and rap fraternity. However, a few artistes are defying the odds by presenting fans with what to bounce to, what to groove to, and what to go like "damnnn these bars are fire". This art, is what Soorebia has honed and perfected over the years, a good blend of grit & fan.
The Legacy Soorebia is building;
Since the release of his hit song Primus some two years ago, Soorebia has continued to thrill fans with infectious rhythms. For rap lovers, the gritty nature of hip hop is one of Soorebia's strengths, something he employs in every aspect of his music. Even though he possesses a flawless flow in Kasem & English, the skilled rapper has vowed to ensure his skill and lyrical dexterity will draw lovers to rap in Frafra; thus, he continues to drop rhymes and puns, interjected with witty English lines that generally summarize his songs. This creates a certain relatability with the audience.
As the front liner of BBT, Soorebia is proof of the label's prowess with a constant releases of bangers. Kiimadom is another of Soorebia's ingenious songs, and its produced by AzkonnaBeatz.
This song is a freestyle which begins with a street boy showering praises on Soorebia and chanting his musical prowess. This signifies how deep his music has been appreciated by people on the street who have little time to listen to music. The song then follows with a bar-for-bar verse from Soorebia, with a heart-out expression of his dedication, journey and the love of God that has kept him souring to higher heights in his music career.
The three minutes and thirty- four seconds song (00:03:34) has Soorebia rapping his heart out, combining metaphors, similes and punning with words so as to give listeners a deeper meaning and understanding of the message he is putting across. The song concludes with the same street guy reiterating his message, and asking listeners to consider his bragging/praises justified as they (listeners) have listened to Soorebia.