The Managing director of Accra-based Citi Fm Samuel Attah-Mensah aka Sammens has called on Ghanaians to consume locally produced rice. He made the statement via a Facebook post which has received over 1,300 shares and several reactions. Reading through the comments, one could genuinely say there exists a lot of Ghanaians willing to discard the notion that foreign grown/produced rice tastes better. A cross-section of "commenters" actually sort to know the price, and locations where the rice could be purchased.
For Sammens, the empowering nature of such a change in attitude would directly affect the almost 150,000 rice farmers in the Northern part of Ghana.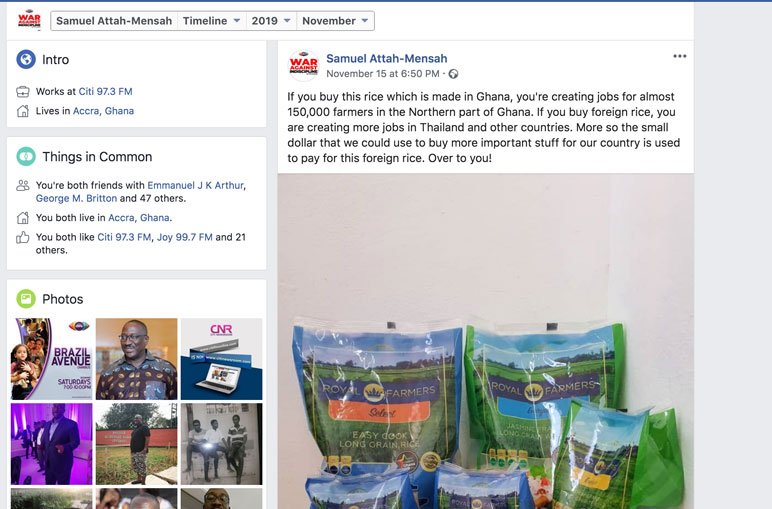 I believe this call is in the right direction as importation continues to affect several Ghanaian industries; the ripple effect is felt by all as the Ghana Cedi suffers when matched with other currencies. Patronizing Ghana produced/made stuff gives more jobs to the citizenry which affords them the opportunity to lead a dignified life, as well as take care of their dependents. A booming economy would definitely improve the quality of life for every Ghanaian. It will also help government meet its development goals.
When public figures of repute such as Sammens makes a call of this nature, it goes a long way to affect the psyche of Ghanaians who revere such personalities. It is therefore important for public sensitization to continue via all sorts of channels to ensure we arrive at a point where the local manufacture of goods are not ignorantly juxtaposed with inferior quality. Besides, patronizing MADE IN GHANA would empower manufacturers to improve upon quality. By extension, the decision to wholly consume MADE IN GHANA should trigger the serious performance of quality checks by the FDA and other government agencies to ensure safety is not compromised by any companies.
Thank you Bro Sammens; me and my household will uphold the mantra to consume more MADE IN GHANA.
"Samuel Attah-Mensah 'Sammens' is a Ghanaian media personality, business man, Managing Director of award-winning Accra-based English speaking radio station Citi FM. He is also the Vice President of Ghana Independent Broadcasters Association (GIBA) and a lecturer." Wikipedia