In my daily scavenge for what is and what isn't I stumble on many issues; mostly intriguing. As irritating as some findings may be, a careful scrutiny would either expose an uninformed bias/opinion or otherwise. Rockcity is the biggest urban music group from the Upper East Region. Their Big Break Through album has placed them on a pedestal most artistes can only dream about, however, a post by Moses Apana Coxson (of the AM Drive on Yem Fm in the Upper East Region) appears to cast a dent on their "real factor", considering the kind of music industry that the Upper East industry is blessed and cursed with.  
Checkout the post below:
Popular Music group, Rockcity Bongo says they refused to file for nominations at Upper East Music awards held last December because they were too busy working on their album dubbed *The Big Break Through*.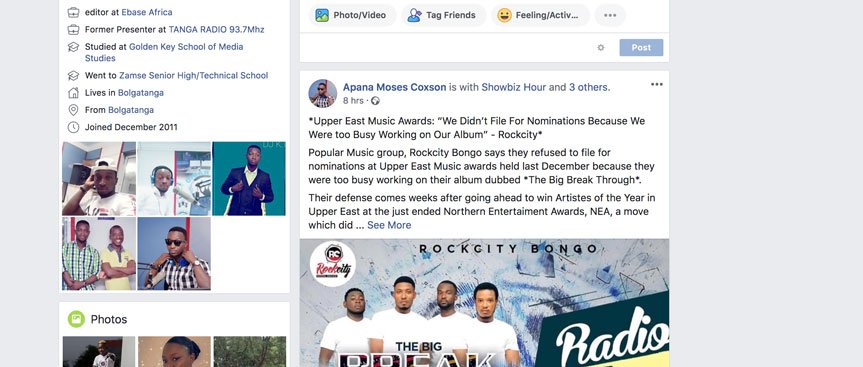 Their defense comes weeks after going ahead to win Artistes of the Year in Upper East at the just ended Northern Entertainment Awards, NEA, a move which did not settle down well with some Showbiz watchers in the region and got tongues wagging against the Bongo beer hit maker.
But speaking Wednesday on the A.M Drive on Yem Fm 89.1FM, hosted by Moses Apana Coxson (DJ K.I), the Typical Bongo boys say their decision to not participate in the One Love Youth Foundation Awards was also influenced by past experience in similar schemes developed over the years which started well but never saw the light of day, in other words flopped.
Lead Rapper of the group Conrad Kurt also known as Kansimolga says their critics may be ignorant about what the group stands for and such thoughts is unfortunate for a group like theirs which stands for the Upper East in all they do.
"around the same time they were organizing the awards, we had so much on our hands to do for our album. So when we were contacted by organizers of the awards, we told them that honestly that reason in addition to other reasons which stern from previous awards we filed but nothing came of it made us to stay away. But for the NEA, we already had a relationship with them so we knew that then that we didn't have a lot on our hands, so we filed". He added
Meanwhile, The Upper East Region Entertainment/Media industry has struggled over the years to get well grounded structures and events like annual Awards ceremonies with goodwill and intent for Music Artistes.
Even with last December's Upper East music awards, discontent filled the hearts of many artistes and groups after allegations of some under dealings between some artistes and organizers of the event.
Allegations were also made of CEO of One love youth foundation, Kabu Bankz pulling strings in favor of some high bidders and giving out awards to his favorites while studying faraway in China.
However, when asked if the Rockcity will avail itself for subsequent Upper East Music Awards, the group currently on a radio tour to promote their album answered in the affirmative.
The Big Break through Album is a compilation of already released songs from the band and some fresh jams like Rap Buur3 featuring West entertainment Rapper, Nambawan and Universal God ft Talent Singer – Atimbila.
You might want to listen to the the album on all digital platforms or download for free on local websites.
https://www.boomplaymusic.com/share/album/7024072?fbclid=IwAR1cjDfTZvclD3ou7BI_o8wPfgNIq00U13MEomdToIGaq3foh3gcUd1UB94