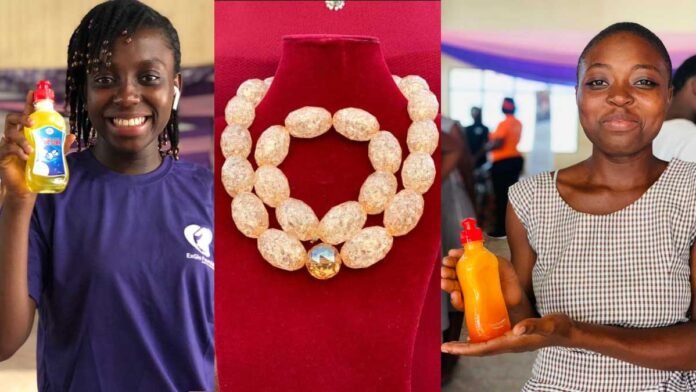 ExGlo Foundation has once again stepped out into the regions in the spirit of giving and teaching how to fish. This time around, the beneficiaries were the Tamale Girls Senior High School in the Northern Region & Srafa D/A Basic School/community, in the Central Region. As an organization operating on the principle of meeting the real needs of people, the activities in these two regions were based on a needs assessment conducted earlier in the year.
How ExGlo Foundation Arrives at initiatives
ExGlo has previously been involved in paying school fees for students from deprived communities, donating school supplies such as tables and chairs for staff and students, health screenings and talks, career guidance, and equipment for processing raw materials such as shea nuts, among other things. The foundation continues to strive in diversifying its impact projects and supporting livelihood ventures.
The needs assessment found that young girls in Tamale had a high tendency to start their own businesses after high school when they are not able to continue their education. However, with little to no skill acquisition, this desire did not always materialize for people who lacked financial resources. ExGlo was there to fill that hole by teaching these girls for free.
The situation for the Srafa community was different yet precarious. In a farming community, girls unable to pursue higher education join their parents on the farms to support themselves and their families; and given that farming is a seasonal occupation, the women become idle when the season is over. With most women being housewives, skills acquisition could put them on the path equip to financial freedom.
ExGlo Foundation Gets on the Field
The ExGlo team visited these two regions on different dates; on the 12th of November 2022, students of Tamale Girls Senior High School received their skills training in Liquid Soap and Bead making.
The ExGlo team later travelled to the Central region on the 18th of November, 2022 to visit the Srafa Community. The visitation was in 2 phases. The first phase was the donation of some essential needs of their basic school to facilitate learning as well as the provision of materials to enhance good menstrual hygiene. Items donated to the school included markerboards,sanitary pads, towels, soaps, African print cloths (to cover themselves with it in the washroom when changing), dozens of panties and a cupboard where all these
menstrual hygiene items can be kept. ExGlo foundation also repaired the spoilt hand wash basin in the washrooms and fixed the markerboards as well.
The second phase involved the entire community, but primarily the women. They were taught how to make shampoo, liquid soap, and pastries, which was a huge success. The women were equipped with these skills to help them generate extra income to support themselves and their families.
This year's Skills Development Training was sponsored by St John's Hospital and Fertility Centre, Tantra Hill roundabout, as part of their corporate social responsibility, Best Western Premier, Accra Airport Hotel, and other benevolent people, ExGlo once again moved to impact lives. Special thanks to all who supported making sure these two programs were a success, especially Mr. Michael Sandow Ali (the chairman of the board), Mr Abeiku Aggrey Santana, Prof. Joshua Y. Abor, Prof. Mrs. Vera Fiador, and other family & friends.
There is More to come
Despite targeting the Central Region, Northern Region, Upper East Region, and Upper West Region for the Skills Development Training of 2022, ExGlo had to limit the number of locations to 2 due to financial constraints. However, the organization continues to seek support from the general public, other NGOs, and organizations to help execute this cause and reach out to more beneficiaries.
For support, donate, or seek further information, please contact;
infoexglo@gmail.com
0264234016/0245581612
ExGlo has been dedicated to ensuring that vulnerable people in the rural areas of Ghana, especially the Central Region, Upper East, Upper West, and Northern Regions, enjoy access to decent education, healthcare, and sustainable livelihood projects to improve their lives. This mantle it has carried since 2012 has always been timely and ingenious.
This year's Skills Development Program was coordinated and led by Ms. Nancy Abena Manko, the project manager for the foundation with oversight provided by the Executive Director, Dr. Patience Aseweh Abor.
Volunteers for this year's projects were;
Ms.Priscilla Wiah
Ms. Hannah Ampomah
Ms.Winifred Bakari Soale
Ms. Rahama Issahaku
Ms.Jennifer Yaa Andorful Wilson
Nana Tawiah Gaisie
Mr. Kwesi Ohene-Djan
Mr.Samuel Quansah
Mr. Moses Quarshie
Ms. Alberta Koffuah