Fad Lan has been around for a while. A Tamale based artist, his prowess has earned him major collaborations with some of the finest from the Northern Region and the savanna as a whole. From collaborations with Zola Boy Maccasio to VGMA winners Fancy Gadam & Teflon Flexx, his consistency remain a strength. His collaboration with Gin Seng and Rich Kid further espoused the young artist as a force for the nation. Therefore, it is not surprising that he could pull a feat similar to Fancy Gadams' at the Aliu Mahama Sports stadium in Tamale.
The nature of the music industry in the savanna
The entertainment industry in the savanna is bile-filled. Artists, fans, and promoters seem to have been soaked with negativity; it is a constant pitching one against the other. Sometimes, the antics make appreciating the actual works of artists difficult. Before Fad Lan's concert in Tamale, unnecessary comparisons were made between him and other artists who dared to stage a similar event. Instead of using the true worth of the artist to promote the event, it was more about who was the ruler or King. At a point, a fake rivalry between Maccasio & Fad Lan became subject. It will be preposterous even to start comparing the two. They have each carved their niche. Unfortunately, when a dimwitted approach becomes the central premise for one to thrive, all contrary opinions are deemed hate and envy.
There appears to be a template that artists from Tamale have been using to appear dominant. This gimmick which has somehow worked to favor artists like Fancy Gadam and Maccasio, failed to work for Fad Lan when he staged the Grace Concert at the Bukom Boxing Arena in Accra. As expected, the post-event narrative has become "let us use hype to create an impression of a successful event." Yes, many have used propaganda and mere hype to rise, but longevity is a result of awesomeness.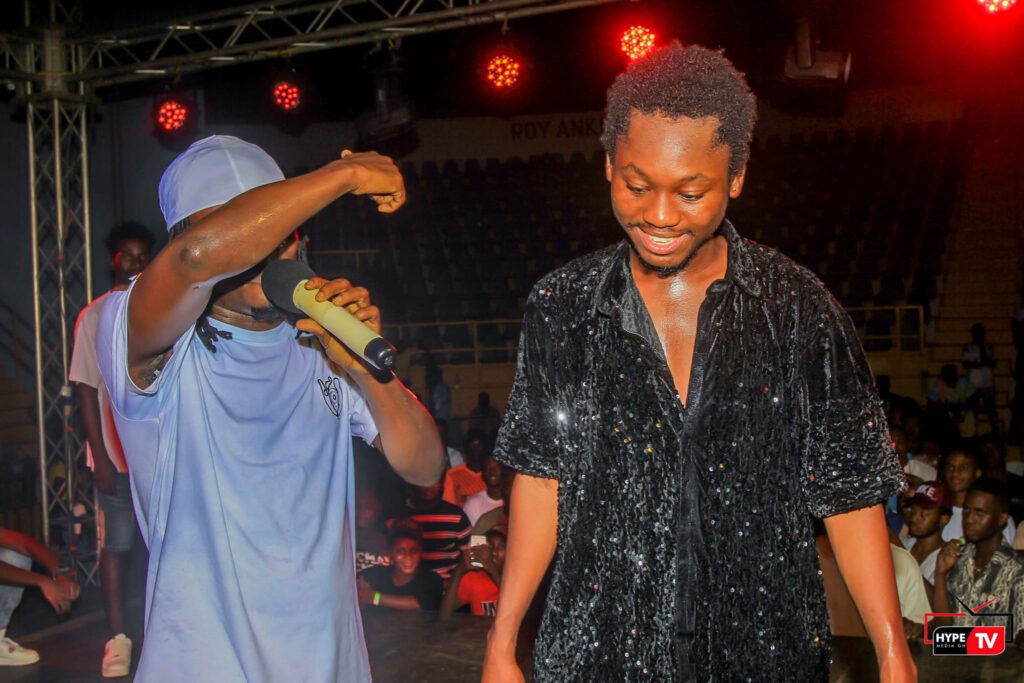 We will be damned to underate the Young Bull's talent. Nevertheless, It will be an idiot not to acknowledge the problem we have created. It is worth noting that, no one who has called Fad Lan's performance at the Grace Concert a flop. Most of the objective minds I have interacted with were disappointed in the turnout, including fans and other musicians who graced the event.
What is the template used By Fad Lan & others?
The template mentioned earlier is akin to absolutely depending on a cash cow. Fancy Gadam and Maccasio, who have proven phenomenal, are rumored to rely on an ethic-oriented fan base to stage events. People have even suggested that fans from Tamale have sometimes followed them to places like Accra to help make a statement of dominance. In analyzing that situation, the artists mostly embark on the Journey to Accra, run promotions in areas predominated by people from Tamale and viola, an event space is filled. While this strategy brings in some good revenue, the bigger revenue source is when one begins to appeal beyond his comfort fanbase.
In a Facebook post by Prince Barak, a blogger based in Tamale; he had the following observation to make: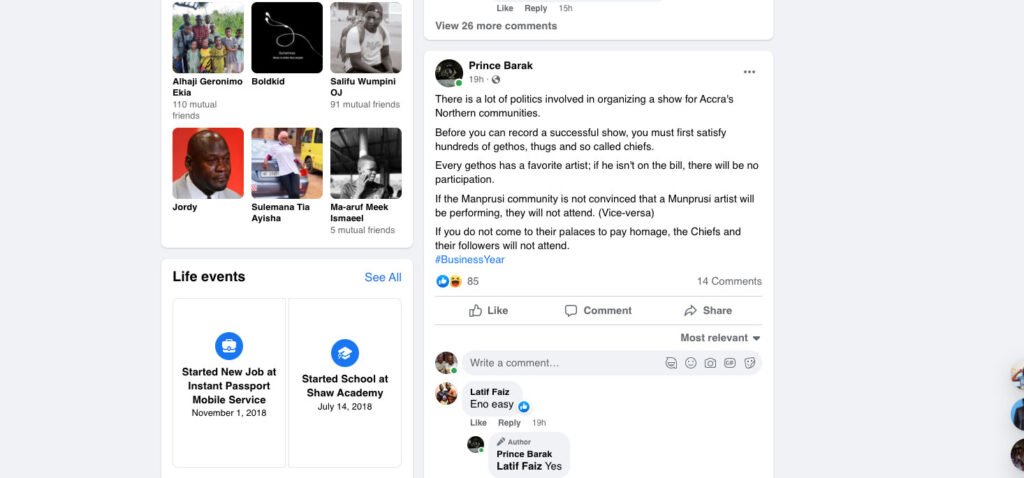 The above tells a certain story; it compounds the conversation of worthiness. While many would agree that the success of an artist is directly proportional to his talent & team, the antics suggest the success of an artist from the savanna hinges on ethnicity.
The apparent solution that thwarts growth
At a recent media event organized by Northern Entertainment Awards, Jamal Bamba described criticisms from people online as "rants.". His comment was to express an exception at the low turnout to that particular event. However, he failed to realize that it takes more to draw stakeholders together for a forum of that nature. Growth in the industry should never be limited to ethnicity. Jamal suggested the creation of a Northern Block to enhance this ethnic-oriented kind of promotion. Many applauded the above, but the reality of such is furtherance of the perceived neglect by "Southern Media."
Truth is one; such a move would only benefit people like Fancy Gadam, Maccasio, and some artists from the Northern Region. Artists from the other regions in the North have tried making inroads in Tamale; thus far, none has gotten the kind of love Tamale has for its own. Adopting his suggestion is just an illusion and not a solution. Secondly, people from the other regions lack that ethnic-oriented support of their own. Only one route is certain to bring success, improving the talent and promotional strategies to receive the required attention.
Fad Lan & the Grace Concert
We saw all the promotional material and gimmicks; it was simply a copy and paste. Our ways need to give in; we need to look beyond copying; we need to start pushing savanna-based musicians artists to their apex based on worth. Fad Lan is a daring artist. The Tamale event may have influenced the decision to rival others at the Bukom Boxing Arena; however, a careful market study would have birthed a better event. He needed to rely on three things:
A smaller venue
Ethnic-oriented audience
Genuine lovers of his music
That would have guaranteed a stellar turnout and genuine reviews instead of churning out propaganda.
When we choose to shoot ourselves in the foot, let us not blame others, and we should lay it right at our doorstep.
Fad Lan is not an artist we should confine to our ethnic-oriented balderdash. He has proven to be an emerging force that could break the jinx of national appeal. Suffice to say, musicians from the savanna of Ghana appear to be under a spell. The satisfaction that characterizes turf-based success seems to cloud the route to nationwide domination and global success. Fad Lan should not be left to wallow in such; he is one of few who could break boundaries.
Kudos to his team for staging an impressive show. Though the numbers were low, it did not affect the performances. Young Bull to the gal'dem.