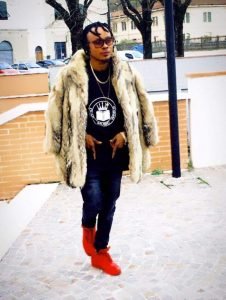 Omar Music World Wide, a Ghanaian record label based in Italy has made an entry with the signing of two of the most promising African acts in Italy. According to the CEO of OMWW the record label is here to invest in African talents based home and abroad. This was revealed at the signing of their maiden acts, David Omorho popularly known by his stage name Omo David aka Moneybaba recording afro pop artist.
Omo David Started his musical career at early age in the church, but fully started composing and writing songs at the age of twelve years, he has won several music competitions back in Nigeria and Ghana. Omo David got his musical inspiration from the African greatest legend, afro star of kalakuta republic, Fela Anikpolakpokuti and from there he developed in his music skills by proceeding to a professional music studio. He released his first official singles in 2015 titled 'Adesewa' and 'Money Baba'
The other artist who got signed and outdoored is Barnabas Nabas Olokpa a.k.a TUKLIN, a Nigerian artist, singer,
songwriter and a dancer base Italy. According to Tuklin, he started doing music in the year 2003 and I left
Nigeria for Europe in 2008 to pursue his dreams. He released his first single in August 2017 entitled 'DECENT WOMAN', which enjoyed a lot of airplay on radio stations around Italy.