Introduction
7th December marked yet another milestone for serial entrepreneur Greg Kankoh. His penchant for starting successful, yet socially beneficial enterprises remains an inspiration. The desire to present the blissful nature of African art, craft, & impeccable clothing designs to the world has lead to the birth of a new business AHOOM – (African Heritage Outlet and Online Mall).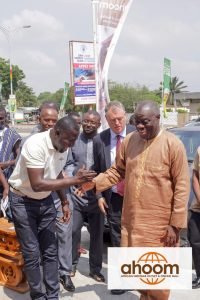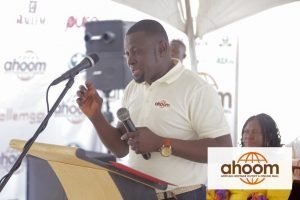 The 4-Day Ahoom experience
The launch was characterized by an exhibition and discounted sale of unique afro-centric fashion, Jewellery & other accessories, Artifacts and Furniture, a delicious mix of African Food, an Open Bar, Music, Drumming & Dance as well as a Fashion show & Kizomba dance sessions. The Sales & Exhibition drive saw over 20 exhibitors offer discounts that ranged from 5% to 30%.
Who participated
With over 20 exhibitors, Ahoom offered a great insight into what it primarily deals in; from Fashion Accessories to Clothing, Decor, Furniture, Skin-Care Products, Paintings, Carvings & several other items.
Exhibitors included;
Brass handicraft
Muggs Jewellery
Cadling
House of Damaris
Paku ent
Julie Jovelle
African Heritage Outlet and Online Mall
Nallem clothing limited
Bulluk Ghana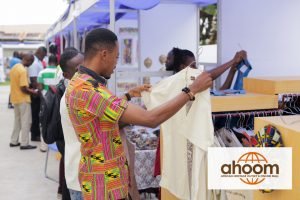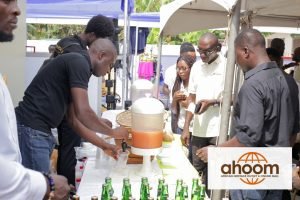 The launch brought together dignitaries including the Minister for Business Development Ibrahim Awal Mohammed, the French Ambassador to Ghana Mr. Francois Pujolas, the UNPD Country Director, A representative of the CEO of Ghana Export Promotion Authority, the Vice President of Apparel Manufacturers Association of Ghana,
The West African Trade Hub of the USAID, the Manager of the World Trade Centre Ghana, Association of Ghana industries, CEO of Value Advertising, CEO of Harmony Trends and several other stakeholders who place value on African art.

Ahoom outlets
Ahoom serves as the 1-stop shop for everything afro-centric. Ranging from clothes to rare artefacts that truly project African ingenuity, Ahoom provides you with the highest quality of everything art in one place. It currently has the La-Palm wine junction Outlet as the main shop with other mini-displays in all Nallem Clothing outlets across the world. Shoppers can also purchase from the online store www.ahoomstore.com .
For a sneak peak of what is in store please visit www.ahoomstore.com or the Ahoom Retail Hub at La-Palmwine Junction in Accra. You can also visit the mini displays at the Nallem Clothing shops located inside West Hills Mall, Junction Mall, Oxford Street Mall, & the Achimota mall.
Africa is indeed rising as our ingenuity is being integrated fully into the world system; strategically to promote the longevity of our businesses. Carefully thought-through initiatives like Ahoom which thrive on the glamour of our African-ness deserve the commendation for seemingly overcoming the challenges of business by selling what is truly African.
To enlist on AHOOM please email:info@ahoomstore.com or call: +233209978099
Think Africa! Shop AHOOM!
AHOOM; a gallery of Fashion, Art & Craft.
Builsa Feok is coming off on the 22nd of December in Sandema.