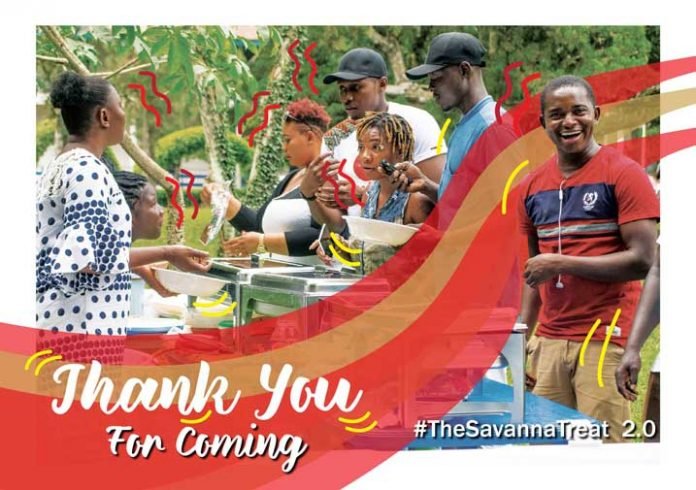 The reason for #TheSavannaTreat
With a surge in advocacy geared towards patronizing what's intricately Ghanaian, many have sort to promote Ghana in its purest traditional forms. In line with above, Savanna Multimedia, an outfit that prides itself in the promotion of the savanna regions, initiated an event that celebrates exquisite savanna cuisine. The event, dubbed #TheSavannaTreat is in the shape of a picnic.
#TheSavannaTreat – Venue & Patrons
The event, which took place at the serene and beautiful Aburi Gardens on the 9th of June, attracted a wide range of Ghanaians. It proved to be a perfect hangout for families, friends, lovers; and all who looked to have fun, and enjoy tasty, as well as nutritious meals. Despite taking place at Aburi, the majority of patrons came from Accra; with others joining in from Kumasi. Savanna Multimedia had several packages, which suited the different categories of people who patronized the event. There were discounts for couples, families, groups and patrons who chose to drive. A luxurious, and spacious bus was provided for those who choose to join the fun road trip from Accra to Aburi.
The package – #TheSavannaTreat
All one needed to enjoy the treat, was a ticket; the treat came with 2 savanna meals and 2 drinks of the ticket holder's choice. A large cup Pito; as well as a bottle of Zoumkoum popularly known as Frofro. A variety of games including Oware, Ludu, Snake & Ladder, and Skipping ropes were also made available at no extra charge. Entry into the gardens was also factored into the ticket cost. Patrons were thrilled to carefully selected popular music, and a good dose of traditional music from the savanna.
Teri Wiizi, the sultry crooner also thrilled patrons to a live performance in an acoustic session with one of Ghana's finest Guitarists, Mr. George Abban. The maiden edition of #TheSavannaTreat came off on the 10th of June 2017 at the beautiful Aburi Gardens. Despite a comparatively low turnout, patrons testified to a well-organized event, which served sumptuous meals indigenous to the Savanna Regions of Ghana.
The recent edition saw over 200% increase in patronage. Whilst may seem to have a target group, this edition actually proved how integrated the Ghanaian society is; a significant number of patrons did not have any savanna leanings, they were simply Ghanaians seeking to enjoy meals beyond what they know and have a good time with loved ones. Obviously, this is a positive one for Savanna Multimedia.
In a brief chat with the organizers of the event, they had this to say
"Many Ghanaians have delicacies they crave; this is often as a result of their inability to access these meals immediately. Thus, a lot would wait until they visit their hometowns/villages. The goal of Savanna Multi-media is to bring authentic traditional cuisine to the fore of the hospitality and food business.
The desire is to project traditional Ghanaian entertainment using meals. #TheSavannaTreat is a novelty of an event, it is carefully put together to give Ghanaians, especially people of savanna extraction an exclusive treat to meals indigenous to the Savanna regions, namely; Upper East, Upper West, Northern Region, as well as parts of the Brong Ahafo Region."
The event was supported by Nallem Clothing, New Clan Music Services, www.ameyawdebrah.com, www.thesavannaonline.com, www.ghananews360.com, www.georgebritton.com, www.atigsi.com, www.ghanacelebrities.com, www.sanatuzambang.com, www.harmattangh.com, harmattangh.com, Event-Gh, & www.filladey.com
#TheSavannaTreat has indeed come to stay. Expect another edition of this event in September…This time around you get to choose, whether a Beach or Park event.