Feok 2017 is scheduled for December 22nd and as usual the organizing committee is belatedly seeking funding from all whom they believe can help fund the activities of Feok. Admittedly, Feok hasn't grown, it has rather shrunk considering the grandiose associated with Feok during the days of the Late Nab Azantilow; back then we enjoyed a lot of support but the reality of life no longer guarantees freebies.
Feok is a central cultural celebration which has infected other ethnicities in our region, Upper East Region. This means the socio-economic benefits are numerous, however, we need to properly brand and create a business out of the celebration if it has to be sustained and seen as an event that exudes a developmental agenda.
The only time I was a part in organizing the festival was in 2014, whilst I made a conscious effort at branding and giving Feok a nationalistic face that attracts tourists, both foreign and domestic, my actions were only perceived to be self-seeking. Self-seeking, yes, because the only way something can be sustained is if it generates income and can pay for itself. Truth is, I planned to make a huge business out of Feok, a business that won't just benefit me but would impact greatly on the socio-economic fortunes of Buluk….
Below is a letter I wrote about 3 years ago but never delivered it for personal reasons.
Also, see the committed report here or below the letter.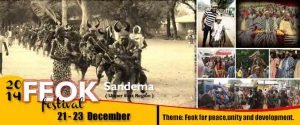 Dear Sir,
REACTION: DRAFT REPORT ON FEOK 2014
It was a privilege to play a role in a culturally relevant event which was not just about merry making, but had a theme of immense significance to the entire Buluk; However, being a sub-committee member, I've had to write this letter in a bid to rectify certain misconceptions be them a deliberate attempt to bring my person into disrepute or a genuine expression of "facts."
I read the initial report, which is presumed to have been the draft version of the final report with absolute disdain since my character was tactically put on a chopping board, which may have several interpretations; I therefore intend to use this letter to correct all the anomalies if they indeed are not the thoughts of the main committee.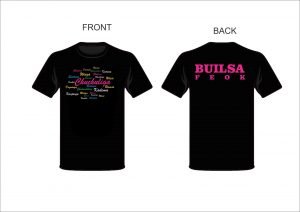 Fund Raising
I suggested to the secretary that with the help of Pro. Caesar Apentiik we could raise funds in Accra since the committee had indicated there was no funding for many of the programs outlined for Feok 2014. A list I made some 3 years ago when BMY-NETWORK organized a development forum was forwarded to the secretary who made an input regarding who should be contacted since some people had already made certain commitments and donations.
The secretary then sent invitation letters and letters of sponsorship via email to me. Prior to this, I had raised a concern with the media committee regarding the sports committee's budget, which didn't include a price package for winners of the sporting activities. I also suggested I could produce shirts/apparel for sale during the festival from which a percentage of the profit will be used to take care of the winners of the games. The media committee agreed to this to and so I set out to find funding for the production of the apparel.
Prof. Caesar was contacted in a bid to get a 10,000ghs loan; he then led me to Mr. Akapame who agreed to give me the loan.
I received an initial amount of 8,000 and the remaining 2,000 on a later date. The 8,000 was received before the decision to raise funds with Prof. came up. The chairman called me for Prof's contact number since I had conferred with Mathias (the secretary) of Prof. Caesar's schedule and how it affects our ability to meet any potential sponsors. The above may have informed the chairman's decision to personally speak with Prof.
The chairman called me on a later date enquiring about funds raised; I told him categorically that we had not raised any funds. He then mentioned Prof. had suggested we raised 8,000/10,000(not too sure the figure). I still maintained we hadn't because my personal loan could not probably be what he was referring to.
No sponsorship letters were therefore distributed because I never got to go out with Prof. for that purpose.
Why my personal loan became the business of the organizing committee is still a mystery to me.
When the rumors about me "chopping" Feok money came up, a meeting involving myself, Prof. Caesar, Mr. Colbert and the Chairman of the Feok committee took place, Mr. Akapame joined via phone and clearly stated his deal with me.
MEDIA ADVERTISEMENTS
The media committee worked without Listowell and so he should not be mentioned when you seek to discredit the efforts of the committee.
On our first meeting via conference call a number of strategies were outlined which included social media, TV adverts and TV appearances.
The media committee as much as I am concerned did not submit a budget to the main committee because we already knew the slang "ligri ka."
The TV advert(s) where put together by myself with some archival material coming from Richard Andii and GTV.
The decision to put the advert and slideshow on TV was one I made on my own because I couldn't have spent money & time making a slideshow/advert just to have it sit on my computer & internet only.
I took up the cost for adverts & graphics with Richard taking up cost of printing stickers and posters. It is worth noting that several Bulsa's were contacted regarding airing adverts on TV but none was in a position to help.
Metro TV's advertising cycle carried Feok slides for a week, GTV-24 was given a copy of the TV-advert as well, but I cannot confirm if it was aired or not. However, I know TV-Gold played the advert severally.
COVERAGE OF THE FEOK ACTIVITIES
I was in Buluk from the 21st of December to the 17th of January, during which period I made several interviews in relation to Feok, I also filmed a lot of the Feok activities because BMY-NETWORK & Savanna Multimedia wanted to make a proper documentary on Feok and also get quality stock footage for any future use when it comes to Feok.
It is worth noting that I was in Buluk with 2 friends, Jason & Abass who agreed to help because I may be too busy with other stuff.
If the above is what was referred to as a mystery, then I am deeply disappointed in the entire Feok committee. If none of the members could not ask questions as to what I was actually doing, then what was their role as an organizing committee?
"Winston complained of the others not obtaining certification while his own camera activities were shrouded in mystery. He also complained to Mr. Richard Andii that he came without an assigned role to play; meanwhile he never reported to the Feok Planning Committee that he, Winston Afoko, was at home.
Mr. Winston Afoko had the secretary of the Feok Committee phone number but made no mention of his coming or his intention to come and cover the Feok activities with or without his friends"
I mentioned accreditation because we were all made to believe the president of Ghana would be attending Feok. I didn't want a heckling situation with the president's security detail and thus my request. What was done regarding that request? Isn't it unfair to now turn around and say my activities were shrouded in mystery?
I arrived in Buluk and the first place I went was the traditional council, I met the Chairman of the committee and introduced myself. We exchanged pleasantries for a few seconds and then went our separate ways.
I am still trying to figure out how a media committee is set-up but not expected to be at the event, but before I get that answer I will apologize for not informing the secretary that I was going to be at Feok and also for not informing them about attending with my 2 friends.
I am extremely unhappy with the sort of report that was bundled as facts. The final report doesn't contain most of what I have reacted to but for those thoughts to be penned in the first instance is a clear case of mistrust, vindictiveness, and some form of myopia.
It seems the organizing committee is more interested in the money that comes to them than any other aspect of the celebrations of Feok.
The sacrifices some of us made to make Feok a well patronized event cannot be measured.
The turnout at Feok 2014 was not a result of wishful thinking. It was a lot of work in the background. From constantly sharing things on social media and even paying for Facebook advertisements.
I sacrificed 9,299ghs of money I didn't have on Feok. I am yet to repay that money and so to be hit with this apology of a report is clearly an indication that we are simply not appreciative people.
I believe any future dealings will now be handled better and professionally since sacrifice is not good for Buluk. What we want is professional services which come at a fee.
Thank you for taking time to read through my reaction.
NB: I insist that this letter is attached to the draft report for future references.
Yours Truly
Afoko Winston Churchill
[embeddoc url="https://atigsi.com/wp-content/uploads/2017/10/2014-FEOK-FESTIVAL-report.pdf" download="all"]