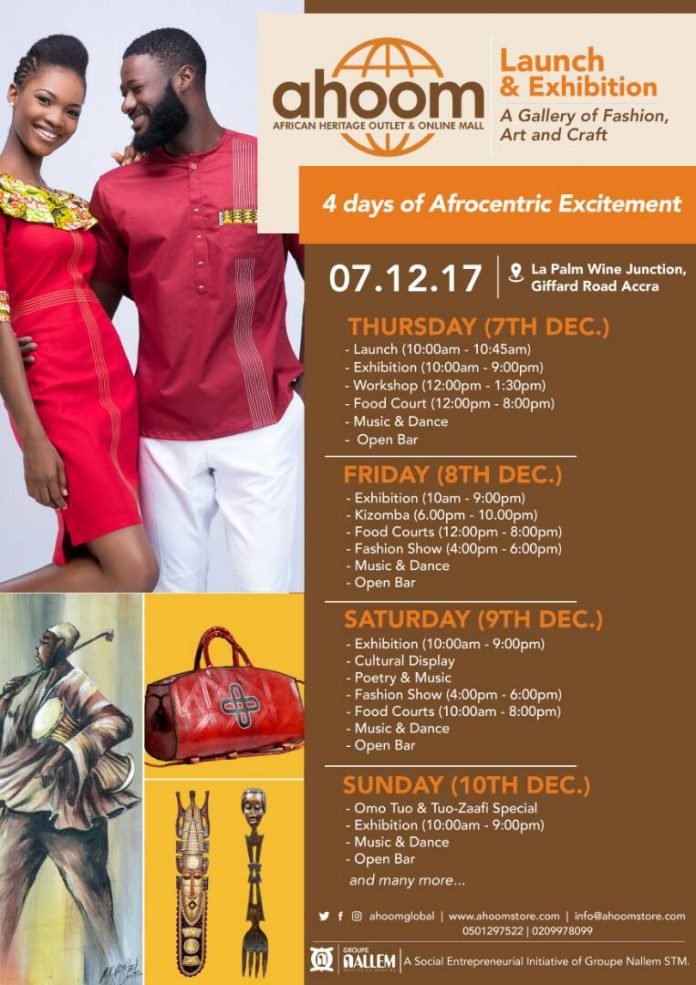 Nallem Births AHOOM; 7th December – 10th December 2017
AHOOM, (African Heritage Outlet and Online Mall) launches in grand style with a Sales & Exhibition Fair starting Thursday 7th December 2017 – 10th December 2017. This will take place at the AHOOM Retail hub located located at La – Palm Wine Junction, on the La Trade Fair Road in Accra, Ghana.
Innovation
Entrepreneurship in Ghana and Africa has seen ingenious initiatives turn big businesses. By the day, more and more businessmen in Africa come up with stellar ideas, and work tirelessly to ensure a successful implementation with a plan to ensure sustainable success. AHOOM, is one such initiative.
The brainchild of Groupe Nallem STM, owners of Nallem Clothing and several other businesses; AHOOM is founded with the purpose of empowering artists and artisans whilst offering the best of African creativity to the world as a whole. The success of Nallem Clothing is a clear indication of how successful AHOOM will become.
If you possess an appreciation for African art, a good sense of style, and crave healthy living, then AHOOM is your perfect partner both online and offline with a fast growing network of shops.
The AHOOM RETAIL HUB is an Afrocentric, Cultural and Event Centre which doubles as a Retail & Wholesale outlet. The venue is ideal for Exhibitions, Cultural performances, & Workshops. As a Retail and wholesale hub, AHOOM offers a wide range of Afrocentric & Fashionable Garments, Jewelry & Accessories, Furniture and Fixtures, Artefacts, Cosmetics, Herbs, Organic Foods and lots more.
AHOOM is a social entrepreneurial initiative with the key objective of providing a platform for artist and artisans leverage on the following:
Skills and talent Development
Quality and finishing
Information sharing
Mentorship
Customer focus
Application of ICT
Application of Science and Technology
Market readiness and focus
The general public is invited to the launch of a unique showcase exuding our African heritage and detailing Afrocentric glamour. On display will be Clothing and Accessories, Jewellery, Bags, Footwear, e.t.c. by Designers & Artisans from across Africa.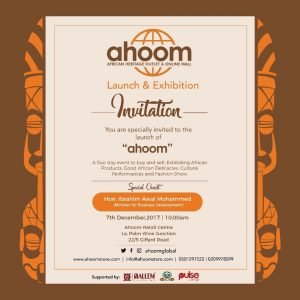 Exhibitors & Vendors are artisans who have honed their craft and techniques over a long period. However, their participation in the launch, as well as the sale & exhibition fair is to make quality available at unbeatable prices
Side attraction during this four (4) day period shall include the following
An exhibition of unique afro-centric fashion
Fashion show
Jewelry and other fashion accessories
Artifacts and furniture
A delicious mix of African food
Open Bar
Music, drumming & Dance
As well as several surprises.
There will be lots of discount sales from well-established African brands and many activities to keep you glued for the period.
The CEO describes AHOOM as, "the preferred cultural center & market place for Afrocentric products; both for buyers and sellers".
The AHOOM concept creates a platform to support artist and artisans from training, concept design, production, all the way to market access both online via www.ahoomstore.com and several retail outlets across Ghana, Africa and the world at large. This is due to the passion Groupe Nallem STM attaches to youth employment.
This event is brought to you by ABL, Nallem Clothing, and PulseGH.
For more information about AHOOM please email:info@ahoomstore.com, call: +233209978099 and visit the website: www.ahoomstore.com
Think Africa! Shop AHOOM!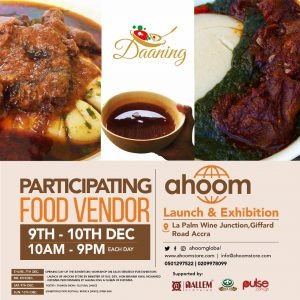 NB: Daaning will make available the following Savanna Meals for sale;
Tuo Zaafi & Ayoyo
Tuo Zaafi & Kenaf
Bambara Beans & Dawadawa Jollof
Tubani & Hot Chilli
Millet Smoothie
Pito
[embeddoc url="https://atigsi.com/wp-content/uploads/2017/12/Ahoom-Program.pdf" download="all"]