Quata Budukusu is indeed riding through the maze of showbiz like a pro; consciously seeking dominance by creating awesome intra-genre music; creating an enviable repertoire which would soon pass as a shocker-of-a-feat.
Whilst in New York for his album release party and the Grammy's, he hooked up with Sidney Mills, a member of the famous roots reggae musical band, Steel Pulse. This meet up has already got the two working towards releasing something musically ingenious. A fusion of Quata Budukusu's versatility, with that beautiful roots reggae sound which got Steel Pulse a Grammy.
Quata Budukusu's pursuits are not the norm in Ghana. Whilst many lay and moan about the inability to penetrate other markets, he's busy fraternizing and networking for the purpose of market penetration. His recent exploits with Wyre of Kenya on Sangolo, which is currently making waves across East Africa is proof the brother isn't resting. Before leaving Kenya, he hooked up with the Benga king Eric Wainaina on a yet to be released song. Call it, a fusion of genre's and culture, and you won't be wrong.
Quata is definitely on that Ghost-ride to absolute domination. And Nothing seems to be getting on the way.
It's worth knowing that Quata's current journey is at the behest of Ernest Annoh Dompreh and Manager Tengol. The two have stood solidly behind the artiste in the last 2years, making all the necessary moves that would keep Quata Budukusu at the top.
Everybody needs someone or a team that truly believes in them; Bakus Entertainment and Quata Budukusu appear to have cemented the kind of relationship that exudes a genuine interest in each other's business.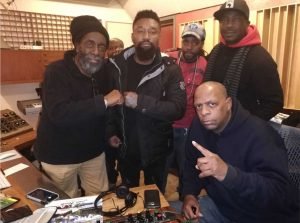 The recent moves by Quata Budukusu, ranging from effective/relevant collaborations to infectious productions, is an indication of the heights set as a target for the label and Quata Budukusu.