The second edition of the LIVE2LEAD, a leader development simulcast experience lead by world-class leadership experts designed to equip leaders with new perspectives and practical tools to positively impact their communities and country has been slated for 12, October 2018.
The conference which goes by theme "Transforming our country and continent through value-based leadership" would be simulcasted live at the auditorium of the College of Physicians and Surgeons in Accra.
Issues to be discussed include, mentoring the art of paradigm shift, understanding the value of change, insights into the science of timing, the power of choice, understanding hard work and discussion on Uncle James Ebo Whyte leadership journey.
Organised by the Centre for Transformational Leadership in Africa (CTL Africa) in partnership with the John Maxwell Company, in the United States of America, the programme is expected to help connect with influencers in the community and expand their business network to produce tangible results.
Live2Lead 2018 will be addressed by world-renowned and distinguished personalities including Carly Fiorina, Debra Searle, Daniel Pink, Tyler Perry, John Maxwell and our own Uncle Ebo Whyte.
The Chief Executive Officer of CTL Africa, Mr Samuel K. Ayim said at the launch that the time has come for the citizenry to take a second look at the country's leadership qualities.
According to him, the recent chaotic economic situation, coupled with the collapse of seven banks calls for a paradigm shift in the leadership qualities in order to enable society hold people accountable.
He indicated that, leadership is not about occupying positions and enjoying its huge fringe benefits. Rather it is about adding value to the lives of the people and society.
"If we cannot show that we are improving the lives of the people we are leading, then we have no business accepting or contesting for leadership positions," he added.
Mr Ayim said the heap of filth that has engulfed Accra and other cities, illegal mining known as "galamsey" and dehumanising scenes in the hospitals called for a collective effort to hold leaders accountable for their actions and inactions.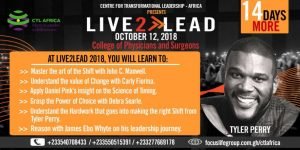 "How can we explain the issues of the so called men of God who give lotto numbers and magically conjure cash, while thousands of unsuspecting congregants in desperation and ignorance, flock to these churches seeking salvation."
He added, "Intellectually these values cannot transform the country."
He said the country needed transformational leaders, who are honest, self-disciplined, hardworking generous and ready to sacrifice for the well-being of others.
The Centre hosted the 2017 Live2Lead which was a great success as judged by the positive feedback of participants.
For inquiries please call: 0540708433/0550515391