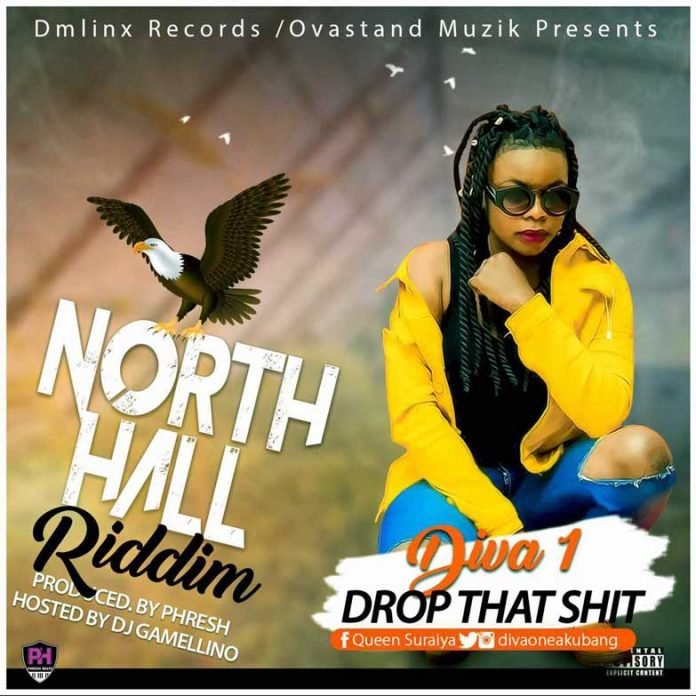 In an obvious display of temerity, the high-energy performer Diva 1 has dropped another song titled "drop that sh*t". Unfortunately the lyrics and tone of the song professes insecurity. The song makes Diva 1 appear to be threatened by the emergence of a particular new artiste. Performed in Dagbanli, English & Pidgin, Diva 1 jabs an unnamed person she referred to as "Local Girl".
Diva 1 is arguably the most prolific female musical gem blessing the Tamale music scene; her energetic, and animated performances continue to serve as a thrill wherever she performs. With a laudable vocal strength, she matches her male counterparts with frequent releases. Her consistency in the industry exudes the characteristics of a focused individual. One might attribute her resilience to a formidable team, but the enigmatic performer is yet to land a record deal – if you are looking to manage or produce an artiste whose skill and commitment to the art is peerless, then you should reach out to Diva 1.
Listen to Survivor by Diva 1 below
Diva 1 doesn't seem to rest on her oars, a demeanor that has got her performing different genres effortlessly. However, her recent single titled "drop that sh*t" may cast a dent on what she represents as a brand; Diva 1 appears to have thrown caution to the wind and launched an unwarranted attack on another artiste.
Even though Diva 1 goes at her target without explicitly stating who it is, one doesn't need a soothsayer to detect the animosity deeply enshrined in "drop that sh*t".
Tamale has been saddled with so much musical "beef", a situation that transcends the loyalty of fans. Whilst "beef" has culminated into success for some artistes, its also led others to an abyss; an oblivion beyond redemption. For the budding industry to truly become a huge economic success, tact and strategy must dominate the actions or inactions of artistes. To survive a religiously polarized society, one needs to employ a lot of thought into all they do. Whilst many might jump to an explicit and raunchy song, they will rather patronize music that entertains and educates them wholly in a very creative way. So, the release of "drop that sh*t" is not only a deviation from the fun-nature of Diva 1's songs but an attempt at confusing some of us who have fallen in love with what she brings to the musical buffet.
As one of the few ladies giving the male dominated music industry in Tamale a true taste of what a lady-musician brings to the table; shifting focus from entertaining music, to war-like music is not in your best interest. The gangster posturing of artistes in the name of appearing street comes with a price, and if that's the path Diva 1 has chosen to travel, she should state that explicitly.
Listen & Download "Drop that sh*t" and be a judge.
[disk_player id="2091″]
Oboy, not a week without controversy in Tamale.